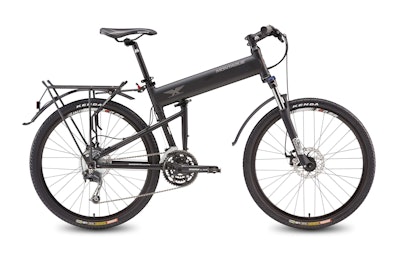 Bit of a detour today from the long road, as it were. Behold the Paratrooper Pro, the Montague company's new line of full-size folding bikes the company believes are ideal for on-highway haulers looking to take full advantage of the variety of nearby locales during downtime on the road, get a little exercise or both.
Matt McCarthy, PR manager with the Massachusetts-based company, notes the bike "features a 27-speed Shimano [Deore] drivetrain, disc brakes, front [Suntour] suspension and 26-inch wheels. It also comes equipped with Montague's patented RackStand, which acts as a cargo rack, kickstand and folded bike stand, and features a built-in mud guard." The front fork can also lock to be rigid, and combined with multi-purpose tires the setup works both on- and off-road.
Folded, the bike looks like this: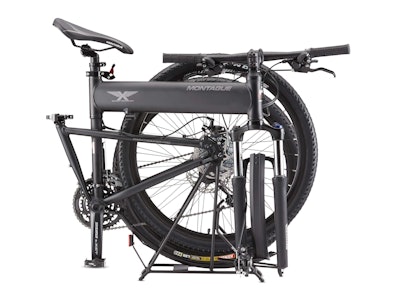 Dimensions when folded: 36-inch width, 28 high and 12 deep, and the total package weighs just 31 lbs. It retails for $995.
Like all Montague bikes, the Paratrooper Pro includes the patented DirectConnect folding system, delivering frame stiffness for superior ride quality. Fold and unfold is possible in less than 20 seconds.
The Paratrooper Pro is just one of a series of Paratroopers, all part of Montague's 11 all-new bike models for 2016 that feature the same folding frame design. The 2016 line-up includes six road and five mountain bikes ranging in price from $639.95 to $2,449. If you're in the market for a bike, find more information about the full lineup, including this model, via the company's website.
Do you carry a bike or other fitness tool on the road? If so, sound off in the comments. Here's a past post detailing one way to carry a bike on the road, if it's not a folding one. I spotted one hung on the back of the sleeper just like this one two weeks back on the road with Gary Buchs:
PS: Headed to Crossville, Tenn., for the Pride & Polish that gets under way Friday? Already there? See you soon. …