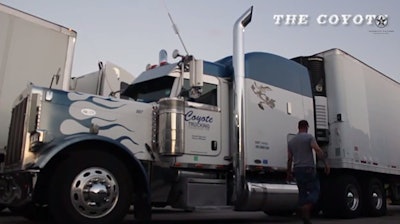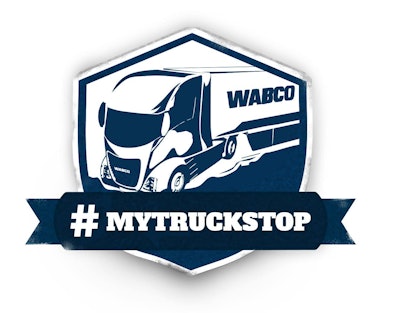 Over on Overdrive's Facebook page yesterday came across what's got to be the comment of the week, close to the top of that list at least. It came under a post that included the photo at right, Wabco's logo for the hashtag associated with its truck-stop-photo crowd-sourcing campaign that I wrote about Thursday. The photo hit Facebook with this brief note and a link to the post: "Ch19: A project pickup, crowd-sourced truck-stop photos 'round the globe, virtual truck show…"
Reader Kenny Lewis I think probably stopped visual scanning of the note with the link at the apostrophe prior to "'round", as here's what he wrote: "I was hoping a crowd-sourced truck stop was going to happen."
My thought: That would be something, no doubt.
So… Understanding first and foremost that Overdrive is less than likely to agree to this idea (I give the prospect that we will actually physically build a truckstop a full zero percent chance), given we're not exactly in the truck stop business, I figured we could at least nudge the idea along with some public recommendations. What exactly would your idea of the perfect truck stop have in terms of space, amenities? How would it be laid out? Fuel islands? (Hey, at the least it could lead to a graphic rendering…) Drop your ideas in the comments below.
New 'Life of a Trucker' vid series installment
Truckers and videographer Tex Crowley pushed out the latest in his well-done "Life of a Trucker" video series, on owner-operator Ronny Wheeler and his 2005 379 on Twitter this week. Check it out below.
The latest in the "Life of a Trucker" series: https://t.co/BYAGbWjoek . We are the Industry Standard for transportation video.

— Texomatic Pictures (@Texomatic) August 14, 2014
You can catch the entire series via a playlist we've put together on Overdrive's Youtube channel here, or watch all the short profiles of owner-operators and drivers via the embed below; the most recent one starts the round.
[youtube u-PfmAmrBYI&list=PLc1lg9rs1dUBjTIcd7D4XmgIH1PUSR6vC nolink]