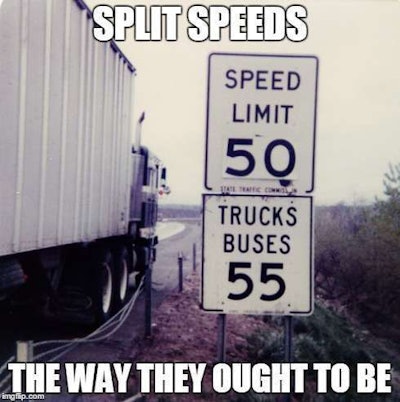 Reader Ric Hellwig uploaded the image above to the gallery earlier this week, titling it "A trucker's fantasy" and noting it was taken on I-91 north of New Haven, Ct. — with no mark for the photo's vintage.
Hellwig says he took the picture many years ago. "I was deadheading to the Winchester plant in New Haven to pick up a load of commemorative Bicentennial rifles to be distributed around the Midwest," he says. "At first, I did a double take and then locked everything down to stop in time to take that picture. I guess the state traffic commission didn't have their coffee yet when they put the sign up. At the time, I thought of sending it to the CtDOT, but in those days I wasn't in one place too long."
Given how unaccustomed we all are for such a split limit, we put the photo out for a little caption-writing session on Overdrive's Facebook page and via the Twitter feed, the former of which yielded the text response you see on the version above, from James Ford.
@OverdriveUpdate "Long way to go and a short time to get there"

— GorillaPSU (@DavidVargyas) November 26, 2014
@OverdriveUpdate @TalkTruck Better drivers get to go faster!

— Randy A (@sunnheat) November 26, 2014
"Professional driver, professional speed limits," wrote Terry Gunderson on Facebook, echoed by Terry Maher: "You beat me to it! Good job!"
Richard B Snyder Jr.: Oops, my bad. Dyslexic.
Charles Lewis: The old days. Gotta love 'em.
But then this one might well be my favorite, overall, via Donald Ullstam — what say you?:
Contrasting colors
Charles Timbrook of Martinsburg, W.Va., sent this one in Wednesday, as snow hampered Thanksgiving travel on the East Coast in a variety of areas. Accompanying the photo, this brief note: "Black Out is in a white-out."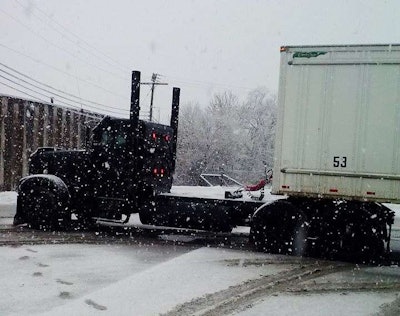 Here's hoping you've been able to stay out of the white stuff if you've been running through the last few days. Read more about Timbrook's military-tribute custom rig in progress in this update on progress of some late modifications written earlier in the month.