In October of last year, says Barbara Trout of Albany, Ohio, a diagnosis of inoperable stage IV pancreatic cancer stopped her owner-operator husband's 30-plus-year trucking career "dead in its tracks."
On January 25 this past weekend, truckers from around the community showed 53-year-old Dave Trout that he continues to be a meaningful part of their trucking lineage with a 100-plus-truck convoy lead by the Ohio Highway Patrol "by our home to display their respect, love and support," Barbara says.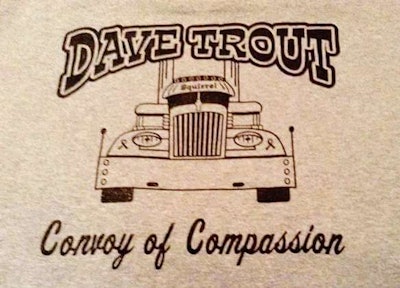 The Compassion Convoy for Dave Trout was designed to "show our support for him on his journey with terminal cancer," as ran the note on the Facebook event page that sprang up for it. "All are amazed at the truckers' brotherhood" in the aftermath, Barbara says. "What a wonderful way to show your love and respect for a legend of trucking in our small community."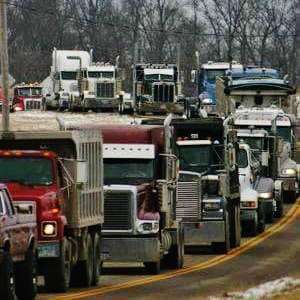 Trout "started driving when he was 17 years old," she adds, becoming an owner-operator then in his early 20s. "He hauled logs, lumber, chips and sawdust, mostly," and has been known for "always helping his fellow truckers. A lot of young men that idolized him are now owner-operators or drivers."
Regarding the convoy, Barbara can't express her thanks enough to all who took part, she says, and is hopeful that it also "shows all truckers out there that they still have a strong brotherhood."
Yes, as has been said more than once before, and quite recently, I might add, the brotherhood exists.
So here's one from Barbara to you: