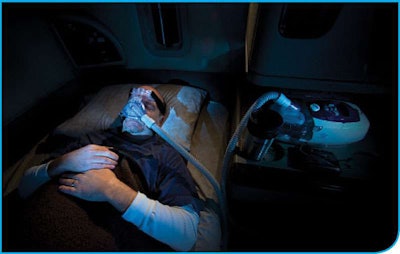 Back around the time of the Mid-America Trucking Show, I received an email from Lower Lake, Calif.-based driver and retired Santa Rosa police officer Greg Price. The driver was seeking contacts for potential assistance with a sleep-apnea-related case that advocates for drivers dealing with such cases eventually came to see as entirely unique. Hearing him tell his story more recently, I can say it resembles the grand fictional tale of Joseph K. in Franz Kafka's novel "The Trial," a classic of modern fiction that is a prime part of the word Kafkaesque's current inclusion in most Western dictionaries.
Here's Merriam-Webster's applicable definition:
Having a nightmarishly complex, bizarre, or illogical quality
And their usage example, tipping the hat to The Trial, in which K. shuttles through administrative procedure after procedure, never knowing just what he is being tried for:
Kafkaesque bureaucratic delays
Greg Prices's story, however, is also in the end a testament to the fact that, when faced with a bureaucratic mistake, followed quite clearly by bureaucratic insolence, or a lack of will on the part of the parties involved to correct the mistake, persistence for what is right and correct and true can ultimately win the day.
Price's interstate privileges related to his commercial driver's license were taken away by the California Department of Motor Vehicles for what Price says was specified simply as something having to do with "federal regulations" on official forms.
The suspension of interstate privileges started, however, with a total suspension of his license — including auto-driving privileges. Having gotten his CDL about a year prior having driven for a time for Schneider National, "in October 2013 I got a notice of re-examination from California DMV. The hearing seemed to me to be a very basic informational hearing going over my medical history — a few days after the hearing I got a notice of suspension and revocation, which completely revoked my driving privileges, not just my CDL."
With no ability to work and, on top of it, an R.V. trip for a vacation planned mere weeks away, "I called the DMV office immediately in San Francisco that issued the order. I talked to a sympathetic manager there. He arranged for an emergency hearing."
It was very similar to his prior hearing, he says — "just with a different examiner, all conducted in the telephone system."
It was after this hearing that his Class C auto license was reinstated, then "two weeks later I got a notice that they would reinstate my Class A –- but only intrastate, no hazmat. Now I could drive commercially in California. But all the while no one really gave me notice of why."
Behind the scenes in calls to a variety of people within California DMV in both the San Francisco and Sacramento offices, he says he was given more specific thoughts. "I spoke to numerous people at the San Francisco driver safety office," he says, and was told "many times" again that revocation of his interstate privileges had to do with "federal regulations."
Other managers pointing to his obstructive sleep apnea (OSA) diagnosis, he says, noting that "the restrictions were actually due to OSA diagnosis and nothing else. Probably the same manager unequivocally told me that no drivers in California would be able to drive interstate from California, period. That's just ridiculous."
Price had been diagnosed with sleep apnea when he started out on the road to interstate hauling in 2013 with Schneider, and he was doing everything respective to the condition the way one should to maintain certification. "I continually talked to my doctor, I talked to the medical examiner I used." Because Price is using a Continuous Positive Airway Pressure (CPAP) machine, as with many other drivers with moderate to more pronounced sleep apnea, "I have to do [DOT physicals] annually. I talked to the doctors, I had letters provided by my personal physician as well as the medical examiner –- both stated I'm qualified. My CPAP compliance was up in the 90th percentile. All of this I continued to show DMV over numerous meetings and hearings.
"I ended up with five hearings with the DMV, including one with headquarters in Sacramento. Every time, all I got back was a notice that the restrictions were sustained. On the telephone, I was told a number of times it was because of the OSA diagnosis."
Price cited the language on pulmonary conditions in the federal regulations, pointing out the the absence of an explicit prohibition on interstate driving in the federal regulations for drivers treated for sleep apnea. Doctors certified Price had "no medical conditions" that were likely to interfere with safe operation of a commercial motor vehicle, the standard for a medically certified interstate driver.
A full year and a half after it all started, after interstate hauling was scooped out from under Price, I referred him in March to driver and Truckers for a Cause cofounder Bob Stanton, whom regular readers may remember for his description of what so many drivers being treated for sleep apnea have dealt with for many years: administrative malarkey.
Price credits in part Stanton's notes to contacts within FMCSA at the national level for finally putting a chip in the dam that brought on the eventual flood. After queries to the DMV, California FMCSA, whose representative declined to speak on the record to me, was told the restriction on Price's CDL was not due to sleep apnea but they gave "no other information," Price says.
But then a few weeks later, in early July, "I received a call from DMV and was told that at that point, the headquarters office had reviewed my file and all restrictions were removed."
Finally, the right person realized or was made to realize their mistake, Price concludes. "It's unbelievable to me," he says, that "nobody would catch it," even after all the hearings and a year and a half's worth of time, during which the 59-year-old, nearing retirement, "did part-time work for a wine distributor in Napa Valley. I couldn't take any job that would require me to go out of state."
Considering the context of the current tenor of fear around sleep apnea at all levels of society, and particularly when it comes to the business of driving, "All I can say is they're just running scared with OSA," he says. Fortunately for the rest of the drivers out there, "I haven't heard of anything like this before. It's been a shock to me. Going so long without any kind of documentation that tells me why -– I still have nothing in writing as to why.
"I have to give a lot of credit to Bob Stanton and the two FMCSA employees who helped me. If it wasn't for you guys it wouldn't have gotten settled."
Meantime, his Kafkaesque journey at an end, "I'm going to look for some part-time longer runs — something I can do once a month or something. I know that's rare."
California haulers — got a tip for him? Drop a comment below.