[youtube aDdclmsdqQQ nolink]
"That 'truck parking' will bring every crime there is into this city."
"If you put truck parking in … no different than a truck stop."
"They say 'truck parking' as a disguise for 'truck stop.' They're no different, they come and go 24-7."
"Please don't jeopardize the future of our children even more."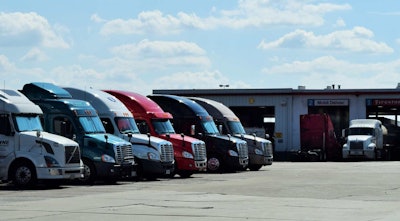 Those are just a few quotes from citizens of Hutchins, Texas, on the occasion of the early-November hearing at which the Redneck Diesel Performance service shop sought a special-use permit to develop their property for secured truck parking for subscribers and their customers. It's a story I've written about in the recent past, and one that continues to develop, as the shop is now actively looking into the potential of moving the operation entirely out of the Hutchins city limits.
The "Crazy Hair TV" gonzo series of Youtube videos covered the hearing, and you can check out the resulting video of citizen testimony below. Watching it, one thing is clear — the city council's encouragement of distribution-center activity in the town in the last decade has clearly ignited something of anti-trucking firestorm there, and the shop's modest parking effort may ultimately be a casualty of that, in the short term. As Eric Pinola, in business development with the shop's owners, noted earlier this week, he was told by a third-party facilitator there was a "99 percent chance" the special-use permit wouldn't be granted, given the tenor of the meeting's comments.
Ultimately, the case is well illustrative of what truck stops, fleet shops, state DOTs and others who would build truck parking are up against in many areas around the nation.
Stay tuned for further reporting on parking in our December issue and here online.