The first time Tri-Pol Enterprises company driver Stacy Hill ever heard the phrase "driver shortage" he pegs to the year 1985, no question. He can't recall the exact instance, but he knows the year because that's when he first went out over-the-road as a trucker. It was "probably in use before then," he says.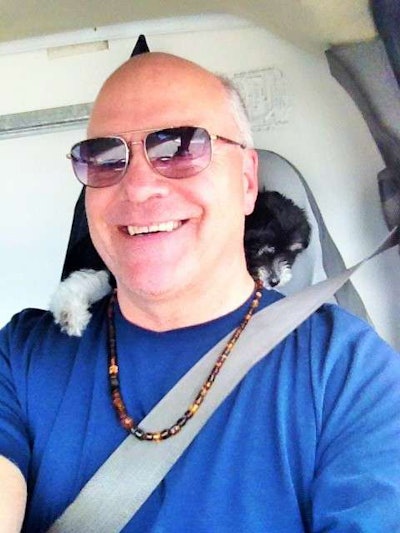 ATBS President Todd Amen has been around trucking since that time as well. As noted in the timeline accompanying our February issue cover story on the "driver shortage" subject, "the only time I don't remember the 'driver shortage' and 'underpaid drivers' being the biggest issue of conversation," Amen says, "was 2009 and 2010, the Great Recession!"
While Amen's right that it may not have been the prime issue of debate in trucking in 2010, the consultants at Indianapolis-based FTR Associates had tracked a shortage of drivers of "varying magnitude since the third quarter of 2009," according to a story I wrote that was published at the time in Overdrive sister magazine Truckers News. Even in 2010, FTR was forecasting the CSA program among other pressures as leading an ever growing shortage of drivers through 2011 to near 124,000.
Before that, though, I can trace my first exposure to the "driver shortage" phrase to the very first cover story I wrote for Truckers News when I came onboard with that magazine as well as Overdrive in 2006. It had to do with the beginnings of such statistical documentation of a driver shortage. As discussesd in the feature package now available online at this link, you can trace the phenomenon to the American Trucking Associations, who in 2005 commissioned a study of the matter, conducted by IHS amid a wave of similar studies from other industries brought on in part by worry throughout the U.S. business community over the so-called aging workforce and the Baby Boomer generation's approach to retirement age.
"We knew there was a shortage," says ATA Senior Vice President and Chief Economist Bob Costello about that original quantification, "but to better understand it and address it, it is best to know the magnitude of the shortage."
Following those estimates, Costello and company have maintained a method of estimating and forecasting a driver shortage that relies on a variety of data to model swings in driver supply and demand, but squaring such estimations over the last 10 years with where you'd expect to see evidence of a shortage — rising driver and owner-operator pay — it's clear at least that the shortage mantra can not be correlated with measurably higher pay and income over those years. Both have only barely kept up with the base inflation rate.
Any of you who run OTR long-haul, and particularly those who've been in the position of hiring a driver for that work, knows the work requires a dedicated sort of individual. That's a person who is willing to sacrifice those many hours away for a shot at putting himself and his (or her) family "right smack dab into the middle of the middle class," says Hill, based in British Columbia, Canada.
But for him, what that means is about an annual $60K made on more than 3,000 total work hours in around 300 work days, well above what the average Canadian professional, without overtime, puts in, he says (40 hours a week for around 2,000 total work hours annually).
While it's pretty well documented that the last two years have seen pay and income increases on average across the industry, for drivers like Hill the same just isn't true. The 20-truck fleet he drives for hasn't seen a pay increase in four years, he says.
For such fleets, the hard truth of the time a driver gives up to make it at going rates will just get harder and harder into the next generation, Hill believes. For "any rational person" to decide to become a long-haul truck driver to be away from home "as much as they are," he says, doesn't make sense "unless they don't have a lot of other options to make the kind of money they need to make to provide for their families."
He points to himself as evidence.
"I don't have any other options," Hill says, after a previous career that went south and left him bankrupt, necessitating his return to where he started: OTR trucking. "I'm 62 years of age, grossly underemployed – trying to find a job where I can make $60,000 annually, they're few and far between."
So the big time trade-off for that annual income is worth it, but at the expense of what might otherwise be his personal life. The work "becomes an all-encompassing lifestyle," he says. When we talked Hill was in Wisconsin "sitting in my truck making a breakfast of bacon and eggs – rarely, rarely do I eat out. Once a month I'll go out to a nice restaurant, but 96 percent of the time I'm eating in my truck, on the road."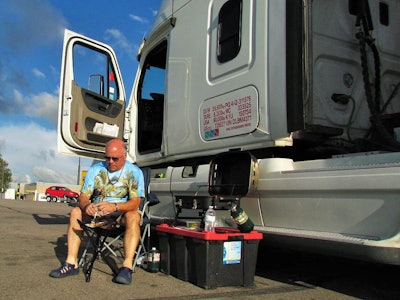 Owner-operator Allan Lester, based in Texas, offered a recruiting analogy you'll see in the package of stories posted today, and that's to professional sports teams, where the "rare breed" nature of the recruits yields just what you would expect from such a high-demand, low-supply kind of labor situation — extremely high pay.
Closer to our trucking home, he adds, "In the summertime, out in California you need a load of produce and there's an actual shortage of produce trucks" — prices for such loads, an example of a real and obvious shortage kind of situation, go up, he adds. "The rates can be astronomical."
Conversely, whenever "there's a plethora of trucks," he says, "that stuff can go for a buck a mile. When I think about 'driver shortage,' I look back at how things were done in the earlier days of transportation, even after deregulation. Look at these unionized companies – Consolidated Freightways, for instance, you used to see them everywhere. Those guys did out and back, a hub and spoke system. While it may have been flawed in some aspects, it was ideal for a driver: home nearly every night, didn't run weekends. Then somebody came up with the idea of sending a guy out for three-four weeks and paying him the same, tell him he's going to like it. For some nomadic people it worked out well, but for many others, it doesn't."
For a variety of reasons, pay for that driver (over the 35 years since price deregulation for many commodities in trucking) hasn't just stagnated, it's fallen, as has also been documented. And while hub-and-spoke/out-and-back-type systems are returning to prominence (or never left in some cases, and there's also that burgeoning interest in relay systems we've written about in recent times), the reality of today's supply chain means OTR long-haul is here and will continue to be a big part of trucking for the foreseeable future.
Greeneville, Tenn.-based small fleet owner Cline Everhart, presented with the reality of inflation-adjusted pay and income over the last ten years, notes that, indeed, if there's been a driver shortage over the majority of those years as claimed, those numbers would tell a better story about driver pay.
He relays an anecdote about his brief re-assumption of the reins of relatively rare spot broker-load negotiations from an ETI dispatcher who was out the first week of January. "I had to work in there and book some loads. I thought, I've taken these too cheap because I haven't done this in a while. But I talked to our dispatchers and they said, 'No, that's about where we are now,' but from my perspective, these were ten-years-ago rates – now, since ten years ago, our costs for everything else have gone way up, but a lot of the rates that we get are still the same. Stuff from your port cities, Florida, places like that, down at around buck a mile, even."
For carriers to really treat OTR long-haul drivers like the rare breeds that they are, rates will have to support it, Everhart says, adding that it's a special individual willing to really put in the time to do the 10K-12K miles a month, "where the money is. We see that a lot weeding through wanna-be truck drivers. New folks aren't wanting to put that in."
Cutting through the "try-outs," in a sense, to those long-term "million-mile safe drivers," to paraphrase the refrain of National Association of Small Trucking Companies head Dave Owen about the absolute lynchpin of long-term small-fleet success, is still the case for Everhart even with the largest pay-rate increases in its history. Both current and new drivers there have seen increases within the last five years that are "greater than we've ever given," Everhart says. That's both "to attract and to retain drivers."
Find Everhart's prescription for the future of rates, driver pay and more in the feature, along with a more detailed account of the related history of the "driver shortage" notion and more on the issues: