As noted ahead of previous installments in this chronicle of longtime former owner-operator turned company driver Wes Memphis and his transition to e-logs … known for embellishment, coffee-shop philosophizing and more, Memphis is based in the Midwest. Catch Memphis' previous story in this series at this link. The following is his latest, and likely final, update: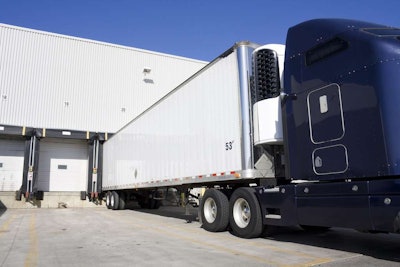 People have asked me through the years, "Wes, what's the most important skill set one needs to pull a reefer?"
I actually once may have been the guy who asked. I would say, though, that the most important thing a guy could bring to the table if he was to go and pull a reefer is to make sure you come from a dysfunctional home. Oh sure, you could be a decent, normal person and go pull a reefer, but it's kind of like a dude waiting tables at the truck stop — I mean it's been done, but, well, you're just not going to be in your wheelhouse. Whenever there's a deep-seated, visceral need to create order out of a chaotic, desperate, and generally jacked-up situation, by whatever means possible — be it a load of melons in Tifton, loaded a day late because of rain and due in Detroit the next day, or a load of plants held up at the border in Sweet Grass because the driver has a DUI and can't enter Canada, and your broker buddy really needs it in Anchorage in four days — a little family history of alcoholism, a little spousal abandonment in your dark childhood past goes a long way.
There's nothing that motivates a certain type of driver more than the words "I just need someone I know I can trust on this load, brother."
Learning to be an e-logger, for me, has meant unlearning the need to be that guy.
Last Friday I delivered my first late load in about two years. There had been a traffic jam in Memphis, and another in St. Louis. I then had to lay down and take a half-hour nap at an Illinois rest area. All these events conspired to get me bedded down with no wiggle room time-wise whatsoever.
The following morning, I pulled into the big-block DC two minutes late, completely devoid of all remorse. When I reported my transgression to the nice young man tasked with administering the e-log program, I was politely asked what had been the problem, at which time I related the aforementioned occurrences. Nothing else was said.
The Wes Memphis of two months ago would have beat his breast with guilt over such a failure. The new digital Wes simply surmised that dispatch seemed to have a real problem with allowing adequate transit time on their loads. Welcome to Lake Whogivesaneff. The water's fine, boys. Come on in.
So, I was given a long weekend. Not sure whether there was a causative relationship between the two events — I wasn't worried about it. Finally got myself to the doctor and was shocked at what I was told. I had lost 18 pounds in two months, and my blood pressure was 110 over 70, the lowest in fifteen years. All the blood work came back looking good, with the exception of high cholesterol.
The only thing I could think which may have caused the weight loss was the increased sleeping time. Normally accustomed to four or five hours of sleep, I was now sleeping six to seven. That's roughly a third more time for this old belly to shrink down. I was no longer eating to stay awake all hours of the night. I still engaged in the practice, just within a defined time frame. I had gone from three-five coffees a day to one-two, from two-three sodas a day to one-two, and I very seldom now ate two meals a day. There were days I only felt like eating a can of beans. Usually, it's been one meal and a snack.
While I'm not an apologist for e-logs, I've come to believe this will not be the end of the world, and that we will figure out a way to survive this, because that's just what we do. Like we survived the CDL, the TWIC Card, the emissions-compliant motors, the hazmat fingerprinting, the demise of the old-school truck stop, the erosion of civility, the death of Claude Akins, and, most egregious of all, the elimination of the Robert E. Lee CB Radio.
Thanks to the good folks at Overdrive for letting me put my two cents in. I've enjoyed reading everyone's comments. If you have any questions, I'll do my best to answer them.
Have fun on your run,
Wesley Barstow Memphis
Read all of Memphis' six dispatches following his e-log transition via this link.