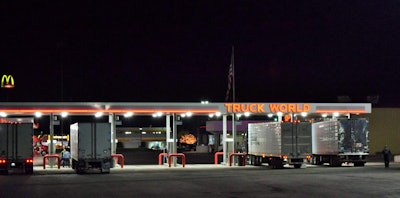 I got the opportunity two weeks back to visit the Truck World stop in Hubbard, Ohio, just east of Youngstown. A full-featured place with all manner of amenities with an old mall-like interior atmosphere, full-service sit-down restaurant with pretty great food (I had the porkchops), a smaller and quicker snack area, and attached Travelodge motel and a bar for those with longer stays.
Coincidentally, reader Martin Hill (Channel 19 regulars may well recall Hill's advocacy around the issue of sleep interruption for team drivers during inspections) wrote in days after I was there to note that he's come across a "brand-new Truck World truck stop" on I-76, Exit 57 (Bailey Road), in North Jackson, Ohio, on the other side of Youngstown. "The friendly employees said the place has been open three weeks," Hill wrote. "It's completely empty, with lots of parking, Transflo works and a Burger King set to open soon. Everything is brand-new — they have showers, too."
If it's anything like the Hubbard location, I suspect it won't be empty for long. When I went to the Hubbard spot, I was on the road with owner-operator Scott Reed, and he, like Hill, likes patronizing independents (like the Anna Truck Stop on I-75 where we stopped as well) he finds on the road. Hill and Reed aren't the only ones. Reed, lamenting the (in his view) decline of such stops amid the rise of the national chains, suggested this poll question, which we posed to readers two weeks back now:
Do you miss the 'mom-and-pop' independent truck stops?
Only a single percentage of respondents reported actually patronizing independent stops with frequency, a recognition perhaps of a growing scarcity out there. It's possible to overstate the growing prevalence of national chains among the truck stops today, particularly when you look at Trucker Path's 2017 "Top truck stops" rankings, which rank stops according to the best average user rating on a 1-5 scale.
Among the top ten stops, only two, Love's Travel Stops in Ozark, Ala, and Bevier, Mo., are among the big three chains' (Pilot Flying J, TA Petro and Love's) networks by my estimation. Here's the top 10 list Trucker Path shared this morning:
Chevron – New Fairview, TX
Creek Travel Plaza – Atmore, AL
Karde's 151 – Monticello, IA
Gore's Travel Plaza Roady's – Seiling, OK
Association of Christian Truckers – Brownstown, IL
BJ's Travel Center – New Madrid, MO
Love's Ozark – Ozark, AL
Hixton Travel Plaza – Hixton, WI
Love's Bevier – Bevier, MO
Kwik Trip Travel Center – Austin, MN
If you look at the full top 100 list from Trucker Path, fewer than a third of the top 100 are from the big chains by my count (29 to be exact).
Independent stops are out there, and clearly getting good reviews from users of Trucker Path.
"I like to patronize the independent truck stops," says Hill, particularly after the PFJ fuel-rebate scandal of some years back now.
Nonetheless, clearly there are many stops both chain and independent that are doing things right. So wherever you tend to stop on your regular (or not so regular) routes, whether it's a national or regional chain or an independent, take a moment here and single them out in the comments if they're doing it right. Who'd get your vote for the best truck stop the nation over?
1-2-3, go!