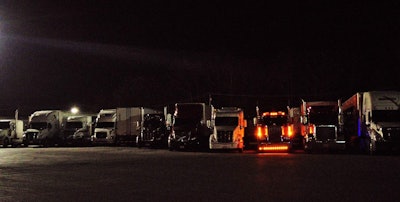 Best truck stop ever? I asked the question in the headline of a post last week and, well, you responded, particularly those of you connected with Overdrive's Facebook page, where answers to the question were numbering in the 100s as  of this morning — 113 to be exact, and counting.
If you haven't chimed in as yet, follow through the embedded post above to the Overdrive Facebook page or drop a comment below. In terms of the numerous honorable mentions posted throughout (yes, "best" here depends on who you ask) — I see Jubitz in Portland mentioned several times, likewise other well-familiar stops like Iowa 80 most anyone around trucking for a long time will be familiar with. Among them, though, there are a-plenty of stops that didn't ring a bell with me, and there's plenty of intel on a variety of good long-term stops, places to eat and more reflections on the stops of yesteryear throughout. Here's a small bit of the results (following), and click this link to go to the Facebook post direct.
Via OverdriveOnline.com
Lefty Thompson: Check out in Salina, Kan., along I-70 there, Grandma Max's. Semis can park very close to the front entrance. A big C-store, nice diner with TVs in key locations, booths and counter, good food and just a nice general atmosphere. Get waited on and relax, is a must each time I'm that way. Is on the Eastbound side.

Kevin: Space[way Truck Plaza], Meridian, Miss. Big lot and 24-hour restaurant. Good food.
Loose Cannon: The Flying J in Snowville, Utah, has Mollie's diner down the road. The Wow Diner is across the road from the Petro in Milan, N.M. There are many more, of course, and if we want to keep them around, we need to keep going to them!
Reader Jim Kabick referenced a stop also called out by numerous commenters on the Facebook page: I've always had good feeling about the old "Triple T" in Tucson, Ariz..
Via Overdrive's Facebook page
Chris Harkins: P&H in Wells River, Vt. Real food, and they cater to the drivers first. Big parking lot, friendly staff!
Glenn Kuehne: Pine Cone [restaurant and] Truck Stop, Madison, Wis.
Don Sullivan: It's not a truck stop, but Pete's Cafe on I-55 at the Dwight, Ill., exit has lots of truck parking and the best food. No buffet but a great menu and an awesome dessert selection, not to mention affordable prices! I always planned my meal stop at Pete's when trucking in that area!
Cody Blankenship: I always enjoyed Garden of Eden truck stop in Eden, Idaho. But I don't consider myself a truckstop connoisseur… I've spent a lot of overnights sleeping in a field waiting to load, which I prefer anyway. Who wants to wonder if there is parking everywhere you go?
Dawn Drilling: Maverick Travel Center, Santo, Texas. Sapp Brothers — all of them, but oh the showers they have in Denver! Bigger than my apartment. Mt. Vernon, Mo., TA still pumps fuel if you want them to.
Mark Break: I just stopped in the Petro in York, Neb., last week and was surprised with a prime rib buffet that was priced fairly and was good. Been a long time since that's happened.
Carter Shaw: Dysart's just south of Bangor, Me., is just about the only good one left. They still fuel your truck for you and have a fantastic restaurant.