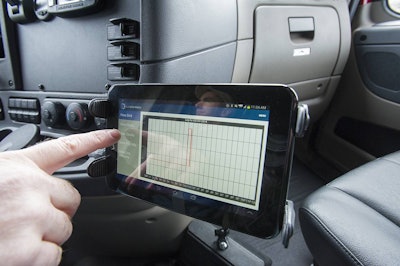 Regular readers will recall some discussion about the issue of dropped Bluetooth connections between the ECM plug-in device and the interfacing smartphone in BYOD-type ("bring your own device") ELDs — and a lack of a cell connection in ELDs whose components communicate solely over the cellular network. I noted the experience of DC Transport's owner-operators during their beginning run with the J.J. Keller Encompass system ELD, where dropped Bluetooth connections were an issue from time to time. Katie Cullen, who oversees the ELD transition at the Chicago-area fleet, wrote in a few days back to stress her solution for the dropped-connection issue: Dedicating tablets to each owner-operator's truck for the purpose.
Previously, as detailed in reporting in April, drivers had been utilizing their phones exclusively to log, keeping paper logs along the way as the company worked into the system. Cullen now attributes the dropped-connection issue to use of the phones, she says. Drops occurred when drivers "were making phone calls or running other apps at the same time, such as playing music via Bluetooth."
Today, she says, "We have switched all of our drivers over to dedicated tablets" — not the J.J. Keller Compliance Tablet itself, but another tablet compatible with the system, an option for any fleet adopting a BYOD (bring-your-own-device) ELD system. Without interfering applications in use via the tablets, "we have had no Bluetooth connectivity issues." And, though I wrote that log currency issues could arise at the roadside with a dropped connection like this, Cullen emphasizes they'd not had any such issue directly.