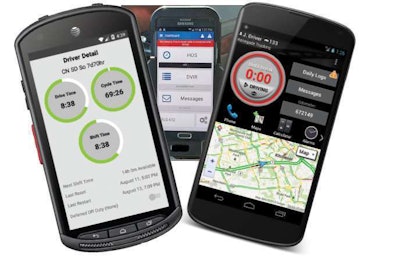 Previously in this series: Out-of-service conditions related to ELDs
Many ELD systems based on smartphone or tablet apps fall in the category of "bring your own device." Because they rely on cellular and Bluetooth connections, BYOD systems can be more prone to connectivity problems.
The DC Transport all-owner-operator small fleet experienced problems with J.J. Keller's Encompass ELD paired with operators' smartphones, as reported in April.
The problems were with dropped Bluetooth connections en route. This causes unassigned-driving events to mount for back-office system operators responsible for reconciling multiple driver accounts, not to mention presenting issues of log currency for drivers during roadside inspections.
The KeepTruckin company, with a BYOD ELD product, recently introduced a USB-connection option as a backstop or alternative to its otherwise Bluetooth-paired system. Utilizing the USB direct plugin instead of Bluetooth pairing, the company says, allows for speedier data transfer and a hard-wired in-cab solution that also delivers continuous battery charging to the phone/tablet paired with the ELD's ECM plugin device.
The Federal Motor Carrier Safety Administration hosted ELD provider companies in Washington, D.C., in May to discuss implementation of the mandate and requirements placed on providers regarding self-certification. FMCSA specialist Danielle Smith noted another issue with BYOD-type ELDs.
Specifically, she addressed the situation of a similar dropped connection in any ELD that pairs software on an operator's phone with an engine-connected device over the air via cellular connection. The use of such a "cloud ELD," as the Geotab company calls its device, could be limited for operators whose routes take them through areas with spotty to nonexistent cell coverage.
Be aware of such limitations before investing in any ELD solution, and keep a paper log handy for serious or prolonged malfunctions.