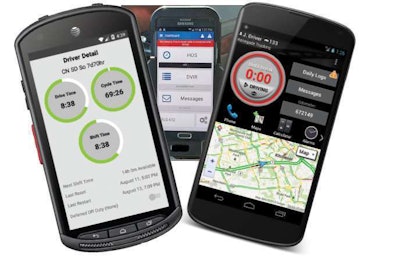 With the news yesterday of BigRoad's DashLink ELD certification, both of the two leading smartphone-app-based computer-assisted logbooks (BigRoad and KeepTruckin) in terms of their use among owner-operators have been self-certified and listed on the FMCSA's device registry. BigRoad and KeepTruckin's separate ELDs share another common bond in being "Bring Your Own Device" (BYOD)-type products, an app on your smartphone or tablet paired with the "black box" that plugs into the electronic control module to capture engine start-stop and other information required of the ELD spec. Most of the devices on Overdrive's big quick-glance chart including a variety of ELD providers retain the option to BYOD, whether a smartphone or tablet. Among those, 3 in every 4 work on both Android and iOS platforms, the balance being Android-only, with an exception or two that support other platforms like Windows Mobile.
In reporting the April magazine's "Inside the Black Box" guide to exploding universe of ELDs as the mandate nears, I talked to more than one small fleet who'd implemented a BYOD-type ELD. All-owner-operator carrier DC Transport, based in the Chicago region with 15 trucks leased on, recently transitioned to J.J. Keller's Encompass e-log system, opting to go the BYOD route (Encompass is also available with the Keller-branded Compliance Tablet, an Android device). Katie Cullen, who's overseeing the adoption of the system at the company, notes that once fully in place the company's leased owner-ops would be paying the monthly service fee associated with the system – around $26 and some change, Cullen says – so it "made sense for them to [be able to] use their phones. … At some point, we may supply them with a tablet" dedicated to the truck for the purpose of logs and communication with the fleet. But for the time being, "very little of their data" in their phones' service plans is used by the Encompass software, Cullen adds.
Neal Pollard, with Salt Lake City-based 15-truck intermodal carrier RDS Container Yard Services (three owner-ops leased; the balance company trucks), concurs on data from a somewhat similar BYOD system in the KeepTruckin ELD. It all amounts to a "couple of megabytes a month, tops," Pollard says, on operators' plans. "We don't do a data allowance [for drivers]. … We overcame that in two ways." One, in order for a driver to hire on, their employment or lease contract stipulates that they have to have a smartphone and "be willing to download our software and accept a small amount of data."
Two, "we try to keep our drivers a little above industry standard" in terms of pay rates, Pollard adds. His fleet tested the Keller system last year alongside KeepTruckin's ELD after drivers at the company made it known they used the original KeepTruckin app and were impressed with its ease of use. That test showed occasional difficulty some drivers had connecting their phones over Bluetooth to Keller's device when starting the day.
"We heard that wasn't uncommon" with some solutions, Pollard says. "But we weren't having those same issues with the KeepTruckin app," so today its ELD is installed in six company Kenworth T880s (two daycabs, four sleepers) the fleet recently put into service with full-service leases. Pollard's contemplating selling some of his fleet's older trucks and going all-owner-operator for the remainder of the fleet. He says those leased operators will be required to run KeepTruckin ELDs if their trucks aren't exempt under the pre-2000 model year exemption in the ELD mandate final rule.
DC Transport's Cullen also noted the Bluetooth connectivity issue with BYOD systems in general. Purchasing dedicated tablets for their owner-ops might alleviate such connectivity problems when starting out the day after the phone leaves the truck for a time. Connectivity problems also have arisen in motion, she adds, but J.J. Keller's 24/7 hotline and technical reps have been responsive just as they were during the initial installation/set-up process. "A lot of times, if [owner-ops] lose a connection, within 20 minutes it's back online," she says. "If I know that, there's a section on the back end where we can modify" and correctly designate "unassigned driving activity."
Cullen, when we talked early this year, hoped to have the entire fleet running full-time ELD come next month.