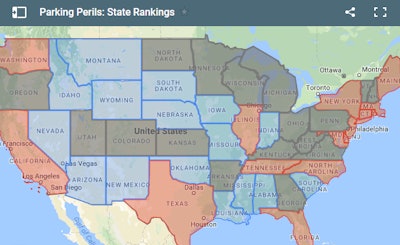 A more-perfect Halloween post there could not be, perhaps, than what trucker William McKelvie dropped this morning on his Facebook page, about the legacy of the Jason's Law truck parking security and availability legislation many see around the country. (The map above, produced in late 2015, charts states where the problem is worst and ranks all on a continuum. RED states are where the problem is worst. BLUE states are where parking is most plentiful. GRAY marks those in the middle. The percentage with each state indicates the share of spaces that are publicly controlled.) While Jason's Law's been part of the law of the land since 2012, dropped into the same highway bill that gave us the ELD mandate, the wheels of government action move particularly slowly on this score, given tax dollars required to do true infrastructure development and this particular law's nature. As I've written before, in order to get projects moving as a result of Jason's Law, state and local governments have to be engaged toward capacity development.
The law put in place state by state assessments of truck parking capacity and needs, and numerous states have moved to provide better parking information for drivers, while other states have been stymied in acting to spur new parking development. But what it all feels like out there to owner-operators and drivers is just what McKelvie illustrated this morning, parked at a rest area on I-75 on the Kentucky side of the Tennessee/Kentucky state line:
Since 2009, the federal government has known that truck parking was indeed a problem. The death that year of a young man parked in an abandoned gas station was the basis of Jason's Law. Here we are some eight years later, and places like this rest area at the Kentucky line have seen little to no improvement for parking. All the while, the very same federal government keeps repeating that they want us to be rested, to have good sleep. How is that possible with rest areas where rest is the farthest thing from happening? Trucks, including my own truck, are parked so close to the interstate, one can feel the rush of air as the truck rocks side to side as others pass by. Even more so — as some fail to slow down as they enter the rest area.
How hard would it be for the federal government — that is, the DOT — to earmark monies for states for parking expansion? Expand the rest areas. Not really that hard of a concept to grasp. What do we as truckers have in this matter? A survey. That is what we have had as a whole action from the DOT in the regards to the very ominous parking situation.
While the DOT and some states have indeed done more as a result of Jason's Law than just the big truck-parking survey/study that McKelvie references here, most parking capacity improvements remain creditable to the private sector — as has been usual for many years, of course. States, as McKelvie rightly notes, could and should do more. And it's not just a problem in, he adds …
… Kentucky. Recently the commander for the [North Carolina Highway Patrol] told the public that truckers do not want to come to North Carolina because of the very serious lack of truck parking. This is a nationwide problem. What will happen come December 18, will truckers overtake the no-truck rest areas? Don't be shocked if we do just that. We have to have somewhere safe to park these big rigs and Trump is not listening. He is not listening to our parking situation, and outright ignoring what is coming down the pike very soon!
The reference to Dec. 18 is the enforcement date for the ELD mandate, and McKelvie puts forward the oft-invoked supposition that more rigidly held-to hours of service limitations will put new pressures on the parking facilities that exist. That supposition holds within it the assumption that last-chance parking options will be taken more extensively, however, in my view, and it's anybody's guess whether that will be the case.
That is not to discount the reality that there's a dearth of parking all over the nation, as shown by the Jason's Law study when released and presented in the map graph above with Overdrive's special coverage of the issue late in 2015.
On this fine Halloween day, how's it looking where you are? Downright scary?