Note: See a video of the memorial site, produced by well-known Youtuber Palerider (Keith Lawson) at the bottom of this post.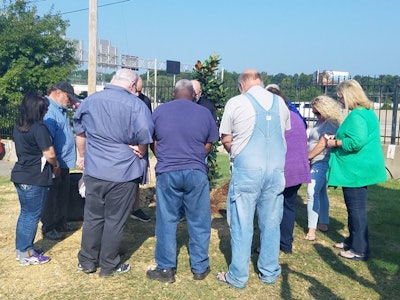 On August 24 this year, office employees of and operators for CalArk and affiliated Central Hauling gathered on a small patch of group adjacent to the company's Little Rock, Ark., terminal and Interstate 30 to remember trucker Wayne Gordon. The occasion was the result of what company HR Director William Stevens called an outpouring of concern in the wake of the hauler's tragic passing, which occurred on the job, on-duty under a load out doing what so many of you do as the heartbeat of contemporary American life and business.
Gordon was on I-40 in Arkansas when it happened. Another hauler up ahead had "run off the road on I-40," Stevens says, in his and attending officers' best reconstruction of events. And about the time Gordon saw the traffic backing up he must have also realized he was not doing well, because "he maneuvered his truck off of the road," coming to rest safely against a barrier.
"Had he not pulled off when he did," Stevens adds, there would have been a chance for further injury to those with whom he shared the road, as Gordon passed on as the result of that medical emergency there, safely out of the I-40 traffic lanes. In the aftermath, the ripples of grief spread throughout the company, with many in the office and among drivers there expressing a desire to attend the funeral far away in Georgia or otherwise do something to remember and honor Wayne Gordon, well-known throughout the company. He'd recently transformed his own personal health with a great deal of weight loss and more, Stevens said, making his loss all the more tragic.
"So many drivers respected him," Stevens says, and the company decided to plant a tree in his memory. In the process of selecting the magnolia, though, Stevens and others got to thinking about the notion of a wider fallen-driver memorial. Before he joined CalArk in August of 2016, Stevens himself, a military veteran, spearheaded the creation of the "Fearless Rock" underwater memorial to fallen Navy SEAL Adam Brown, native of Hot Springs, Ark., and subject of the "Fearless" book by Eric Blehm.
Though memorials to long-haul drivers are fairly common in other places around the world, including in the Australian culture, "we realized there were none" of significance that "we could find in America," Stevens says. Quickly, the honorific planting of the tree to Gordon became something more.
Word travels fast in trucking, today. When they actually planted the tree, some there had gone live on Facebook with the dedication ceremony for Wayne Gordon. Stevens notes he realized that "word had gotten out and as we were doing this" trucks on I-30 "were slowing down and honking their horns as their way of honoring one of their own."
As for Stevens and those leading the future evolution of the memorial, he says, "most people don't realize that truck drivers keep this country running. Driver are the most important part of CalArk — it's our privilege, but also our responsibility, to honor them."
Well-known Youtuber Palerider (Keith Lawson) produced this brief video of the memorial site recently: