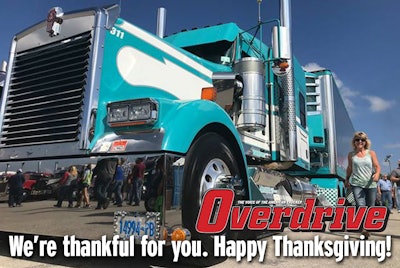 A big thanks in order, too, for 12-year-old Robbie Welsh of Manchester, Mo., who took the picture you see above. If you missed my talk with his mother, Sarah Welsh, earlier this week about her son's budding photography/videography skills and, better yet, his huge interest in the business and community of trucking, follow this link to hear this week's edition of the Overdrive Radio podcast:
And whether you're on the road, home or giving thanks elsewhere with friends or family this year, know that we're all glad you're here to take us along with you on the long road that is the American story.
A-and as I did last year (see my favorite cilantro-spiked slaw — accidental crop has not been quite as good this year as last, unfortunately), here's a bit of a recipe to green-out your Thanksgiving dinner with a vegetable I have had quite a lot of this year, and by a trick of the weather and/or rotation and/or bacillus thuringiensis managed to keep the pernicious harlequin beetle and hungry worms of the white moth from destroying (didn't work so well in 2017): collard greens. My method — easily varied according to your tastes — mixes a bit of the traditional with the not-so.
Ingredients:
*Collards (for our purposes here, we'll say the equivalent of two of the typical bunches you might see in any given grocery)
*Fatty pork for simmering (I've used smoked pork shoulder, a little rib meat and bones, bacon, hamhock, smoked sausage of various types and other options — any likely to achieve desired results)
*One medium onion, diced
*Two-three garlic cloves, minced
*Cup and a half of apple cider vinegar (or more, or less, depending on how much pucker you want out of the experience…)
*Worcestershire sauce
*Hot sauce or a few dried hot chilis (speaking of incredible garden crops this year…)
*Tablespoon of olive oil
*Water or bone broth or a combination
*Coarse kosher salt
Wash collards.
Heat oil in large-ish pot or dutch oven (something with a lid is key), adding pork and onion and cooking on medium-high heat until onion is close to translucent.
Add garlic and splash in all of the cider vinegar and four-five shakes of the wocestershire-sauce bottle to create your pot liquor. Depending on how salty your chosen pork is, add a teaspoon or two (or none at all) of salt. Reduce heat to medium and let cook for a few minutes while you:
Prepare to chop collards. If collard leaves are sizable as in the typical grocery-bought variety (I pick 'em smaller than that and if you do too then skip this step), de-stem.
Chop in batches. (Five-six batches for this amount of collards, I'd guess.) With each batch chopped, add to the pot with a few more shakes of the Worcestershire bottle, mix with the pot liquor, and cover all with the lid. Repeat. Repeat. Repeat.
Once all collards have had some time to steam with the vinegar/etc. liquor, cooking down considerably (several minutes after the last batch added), add a few shakes of hot sauce or your dried hot chilis if you're using those. Cover all with broth or water or combination thereof, and bring to a simmer, reducing heat to maintain.
For large collard leaves, simmer for at least a couple hours, more if needed. Smaller leaves could easily take less time than that. After, remove chilis and serve in bowls with a little of the broth, or drained through a slotted spoon with your Thanksgiving feast on a plate, however you like it. When my daughter was four years old she proclaimed collard greens her favorite food. This is what she was eating. I figure if you can get a four-year-old to eat greens, they might be pretty OK.
If you try it, let me know! Enjoy the day.