In this edition of the Overdrive Radio podcast, St. Louis mother Sarah Welsh details how the trucking community, particularly a variety of owner-operators among it, has helped foster her 12-year-old son Robbie's passion for so many things trucking — and particularly: "meeting drivers to talk about their trucks," Sarah says.
A kindred spirit, as it were.
Robbie's budding interest proceeds from truck-simulator games played with a friend when he was 10, to truckspotting from overpasses thereafter and, now, in-person visits to trucking shows and personal interaction with the owner-operator community the nation over and in his own region. Robbie's filmed with Big Rig Videos' Chris Fiffie, staged his own portrait of Tony Justice, hung out with Wendy and George Parker and met the owner of what might be his No. 1 favorite among custom rigs out there — that'd be owner-op Bobby Laws and his 2007 Peterbilt 379. All in all, it's great to see a young man into today's trucking culture as much as the rest of us, don't you think? Take a listen:
Podcast: Play in new window | Download
(Catch some exhibits from Robbie Welsh's photography, early truck-video forays and trucking interactions bel0w. Unless otherwise noted, all imagery in this post is courtesy of Robbie Welsh.)
Also in the podcast: Making this something of a tale of two Robbies, as it were, with more from owner-operator Robbie Harris, who hauls heavy in the 2004 Kenworth W9 that is an homage to the 1970s-era KW in the famous "Movin' On" TV series. In it, Harris details a recent haul with a massive generator between Wisconsin and Washington State, with insights on costs when it comes to hiring pilot cars and obtaining, state by individual state, permits for such a heavy run.
Robbie gets a big surprise!

Posted by Bob Welsh on Tuesday, March 27, 2018
Tony Justice's drummer saw the following video of Robbie covering their own "Bull Wagon Train" and, before GBATS this year, "contacted Robbie's teacher to ask if he could contact us to send us a gift," Sarah says. "After their concert at GBATS, he gave Robbie a signed pair of sticks and the set list."
The following video, discussed by Sarah in the podcast, is Robbie's first attempt at conducting a Rolling CB Interview himself, with a heavy-duty tow operator based near his Manchester, Mo., hometown.
A few more of Robbie's photographs/vids from the truck lots: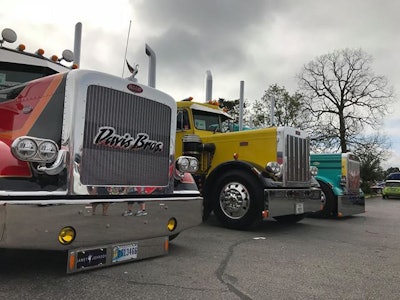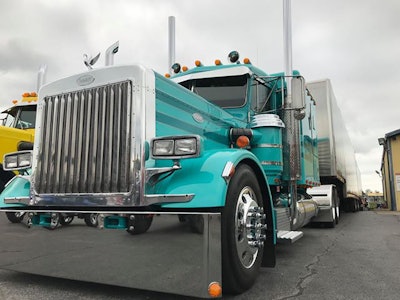 Keep up the great work, Robbie!