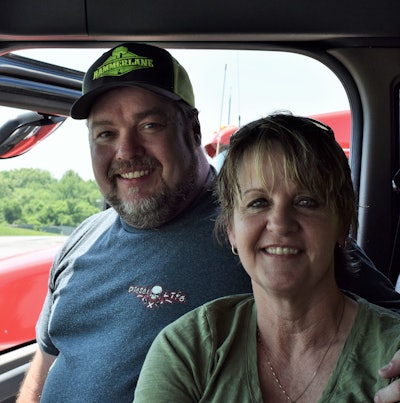 Tommy and Linda Bryant of Hartsville, Tenn., are relative trucking newbies. They've got a little more than a year of trucking experience behind them as a company team with Old Time Express, based in their hometown. Already, though, they've had opportunity to engage in passing on the tips and tricks of the trade, chiefly when it comes to a sticking sliding tandem axle under one of the company dry vans the pair pulls.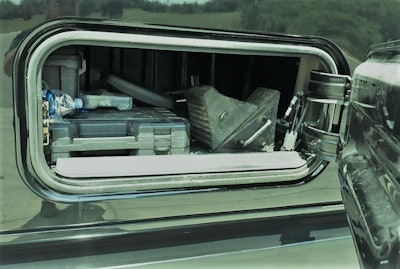 Though wheel chocks haven't been required equipment for most truckers for years, plenty pullers still carry a set in the side box for this and other purposes. (Chocking the wheels at many load/unload locations does remain standard practice for employers there to satisfy the Occupational Safety and Health Administration's workplace-safety regs.)
Plenty other pullers, it's also clear, don't know this particular quick fix for a tandem axle that doesn't want to slide with the trailer brakes set. Tommy Bryant was walking his dog at a truck stop when he came upon another trucker who "could not get his tandems to slide," he says.
"You got any wheel chocks?" he asked.
The driver didn't, so Bryant retrieved his own. "If we chock those [trailer] wheels," he said, "we'll slide that trailer."
Bryant had been in a similar situation on one of his and Linda's early runs, newly loaded slightly above 34K on his trailer tandems but otherwise legal on overall weight. A scale house was not too far down the road, he knew. Depending largely on how the load is distributed in the box, sliding the tandems forward, generally speaking, can increase weight on them, moving back the opposite.
In this case, he'd released the pins holding the axle in place and set the trailer brakes, yet "the wheels were still rolling" when he tried to slide the box. He called Old Time ops manager Mark White, who asked if there were chocks in the side box. There were. White then schooled the Bryants on use of the chocks — one on a wheel on either side of the trailer — to add resistance to the axle to help it slide, noting they'd take a look at the brakes when the unit came back into the shop in Tennessee.
It was "one of the first things we learned out here on our own," Tommy says, after a months-long period of training the couple went through individually with veteran Old Time drivers.
Bryant was happy for the chance to pass that forward. That driver's "probably got a set of chocks now. If he's smart he does. They call this a brotherhood, and we might as well say sisterhood now, too," he says, gesturing to Linda – "I feel like we are beginning to become a part of that and I'm looking forward to being in it."
It seems a relative few drivers carry chocks today, at least judging by of course unscientific sampling on everybody's favorite online social network — many may not necessarily need them for purposes noted above. Longtime Gully Transportation fleet owner Michael Gully commented on my Facebook query about the practice that he hasn't been equipping drivers with chocks for years but the post "just made me think we should be." Today's braking systems largely prevent the need for chocks in most situations, yet they're "still useful. If the trailer's dropped too high," chocks on the wheels can help "get a good fifth-wheel latch and ease raising dollies. Useful for sliding tandems on a stubborn trailer. Useful to release brakes to adjust brakes. We have not been equipping but really we should be."
Have they come in handy for you in recent times?
Here's a few other voices of owner-ops and drivers who've found uses for — or alternatives to — chocks in recent memory: 
Buddy Wenners: I have a pair. Some of the places we pick up at want them used while loading still.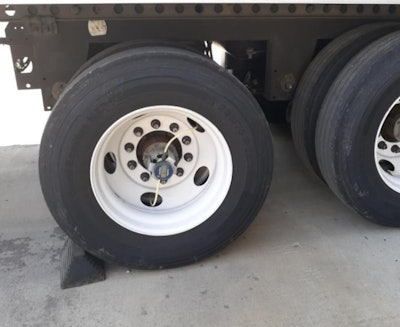 Gary Buchs: Standard safety equipment.
Bryan Hutchens: Yep I go to some mines and job sites where they are required by the safety code. As well as backup alarm and some other safety gear.
Daniel George: 4-by-4
Jeff Clark: A 4-by-4 can serve many purposes.
Mark W. Arnold: I've been off the road for 5 years now but I used my chock yesterday on my dump truck to anchor off my excavator climbing a steep hill. I think chocks are a necessity.
Rod Chandler II: I used to carry one on my RGN in case I picked up something with no brakes — once you get it on the trailer, you put the chock block down until you get chains on it then you throw the block back in the neck.
Idella Marie Williams Hansen: Have wooden wheel chocks in tool box.
And the inevitable wisecrack, involving everybody's favorite item of equipment: 
Melvin Davis Jr.: I use my ELD. They work really well for that, not good for anything else.