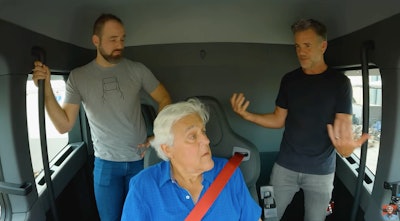 Jay Leno's Garage
Former late night kingpin and longtime car guru Jay Leno got to do what so many in trucking have been dying to do since 2017: drive Tesla's supposedly game-changing Semi truck.
In a 40-minute interview and test drive session, Leno quizes Tesla Semi Chief Dan Priestly and Chief Designer Franz von Holzhausen on the ins and outs of the Semi, in the process revealing the brand's design philosophy and lots of neat tidbits about the truck's performance and capacity.
While it's a fun and entertaining video, Leno's first question goes straight for the jugular: "What does this weigh?"
Priestly gives a lengthy answer:
We started out obviously designing the early cars like the Roadster and Model S and you might ask, well, 'Why did we get into heavy trucking?' and it all comes down to the mission. So when we launched our factory in Nevada, our Gigafactory that supports all our powertrains to get built for our cars in Fremont, our co-founder and CTO at the time, JB Straubel, said it doesn't make any sense that we should be shipping all of these parts for electric cars on diesel trucks. We should do electric trucks.

So that's what kicked off; it started with just a little investigation and over the years it snowballed, and one of our other executives Jerome (Guillen), who had come from Freightliner and designed trucks, was super passionate about it and kicked it into high gear and worked with Franz and the design team to say 'Okay, let's make this into a real program and make it happen.' We really wanted to fulfill the mission and make electric trucks to really clean up the world and haul our own parts on our own trucks.
In the question asking business, we call that a dodge, a wide one.
Tesla has kept its Semi weight extremely close to the vest, never in nearly six years even citing an estimated weight for the truck alone. Recent data from the North American Council for Freight Efficency's Run On Less program indicated that Semi's running at gross vehicle weights in excess of 70,000 still achieved reasonable range and performance.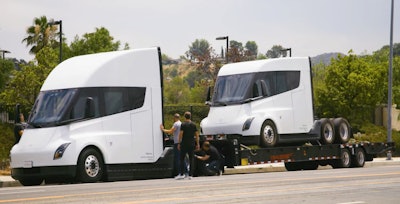 But Elon Musk's claim of 500-mile range at 82,000 pounds loaded has yet to be borne out by any third party.
Later in the video, we see the Semi hook up to a Fontaine Traverse HT trailer to haul another Semi, this one with a lower roof.
At this point Priestly tells Leno he's "pushing 60,000 to 70,000 gross weight," as the Semi gracefully glides down the road.
The Fontaine Traverse HT weighs about 18,000 pounds, give or take, so you can do the math to figure out what the Semis actually weigh. It seems from these figures, at least, it's probably pushing at least 25,000 pounds unloaded.
Besides the all-important weight issue, the Semi makes a case for itself as a creature-comfort heavy, smooth, modern ride that may have some pull with a younger generation.
Leno, a car guy (does he even have his CDL?), over and over likens the ride to his Tesla Plaid, gushes over the interior and screens and constantly remarks on how easy it hauls, even at 13.5 feet tall.
"It's like driving the Empire State Building," Leno says. "It moves just like a car."
Priestly stresses how they tried to make the cab like an office space, with "suicide" type doors that open the opposite way and a high enough roof to stand up in. Priestly says the seats recline, the cab is pre-conditioned and that the easy cab ingress and egress hopes to limit workers' comp cases, as that's the most common cause of injury.
Priestly does get into the nitty gritty of the Semi's 1,500 hp and seemingly endless torque, how the electric motors work with each other, how the throttle pedal also controls braking regeneration, and lots of other areas of interest. From a pure "car guy" show-and-tell perspective, it's a cool video with lots of fat for gear heads to chew on.
Overall, it's a little disappointing Tesla is still only allowing curated press around a vehicle that's supposed to be so important to changing the trucking industry. We would have preferred our own Jason Cannon give it a test drive, but for now, Leno asks some pretty smart questions and the Tesla team gives some pretty thoughtful answers.