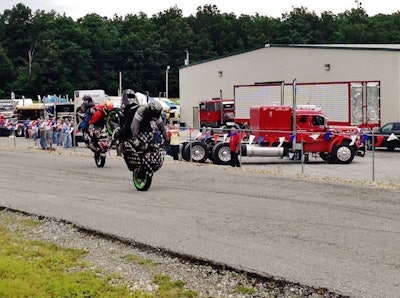 As at the 2012 Charlotte Diesel Super Show, this year stunt motorcyclist Jesse Toler (wearing the gray and black jacket) returned to an Overdrive's Pride & Polish event in Crossville, Tenn., at Fitzgerald Glider Kits' sales and service location there, with a riding partner and more performance action — I caught a bit of it that you can catch yourself in the video below.
Toler made news at the Charlotte show with a couple world records, as some of you will recall.
As for Crossville, also, stay tuned for more from some of the rigs bagging trophies at the event, including Ron and Dan Brubaker of Iowa, Mississippi-based Austin Ashley, Tennessee independent Ted Bowers and Robb Mariani with his classic but heavily modified Ford W9000 hot rod.
[youtube _wvOM-Qjxx8 nolink]