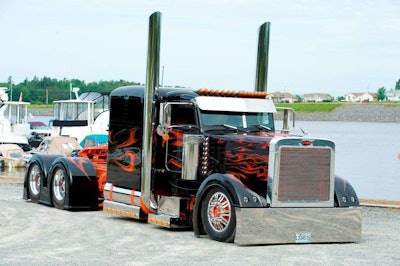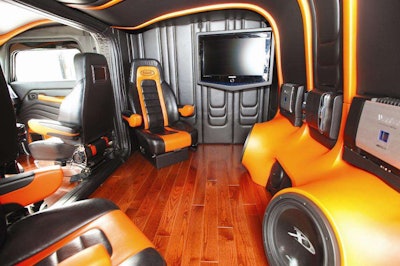 When the thick smoke rolls out the 10-inch stacks of André Gagnon's black '97 Pete and you see the uphill drag racing competitors fade into the distance, there's little doubt this Quebec-based trucker's rig is special.
But it's not until you get up close that you see just how special.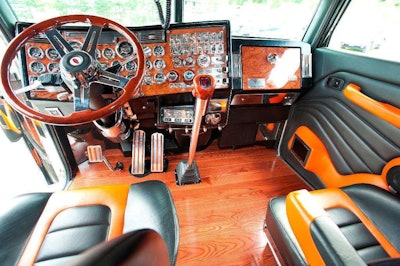 Gagnon bought the truck new and put more than 750,000 miles on it until one day he decided to "retire" it and make it his personal project truck.
The beautiful murals and tractor's details would do any truck owner proud. The frame-up build sports a cabin chopped four inches and a sleeper cut down six. The fenders are hand-made as are the skirts and mirrors.
Open the suicide doors and your eyes are greeted by a full-on custom interior with deep bucket seats up front, a matching pair in the one-time-sleeper-turned-audiophile retreat, and a sound and video system rivaling the display section of Best Buy. (He has six TV screens in the truck!)
Every wall and both roofs have sound deadening material behind the custom panels, and all the speaker enclosures and wiring was carefully crafted to this Maniwaki resident's specifications.
His truck runs every bit as good as it looks and sounds, too. The Gagnon family is quite well known in Eastern Canada for their  utra-competitve competition trucks – and the elder Gagnon's show truck is no exception.
Under the hood is a 1,200-hp Cat 3406E, of which the upgrades are a closely guarded secret other than the ECM allows it to turn 3100 rpm with an Eaton 18-speed backing it up.
"It took us five years to complete this project so far," says Gagnon, who is a regular at the Rodeo du Camion uphill truck drags.  "Each year we try to bring in a new idea so [the truck] has something a little different.
Specs:
OWNER: André Cagnon
MODEL: 1997 Peterbilt 379
WHEELBASE: 275
ENGINE: 1,200-hp Cat 3406E
EXTERIOR MODS: Hand-molded fenders ; cabin chopped 4-in.; sleeper chopped 6-in.; suicide doors; 10-in. stacks with custom exhaust; custom paint/graphics by Ben l'Artiste and Sylvain Charest; custom wheels with 275/80/24.5 tires; front air suspension
INTERIOR MODS: Alpine sound system with Tsunami amps; TVs in each door, headrests and sleeper; Jacques Flansberry custom upholstered seats and interior floor to ceiling; custom hardwood floor