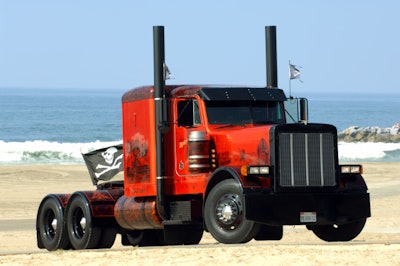 When California flatbed hauler Ernesto Rubio turns into the Old Castle Precast prefabrication facility in the heart of Fontana's industrial area, the security guards at the main gate wave him through as if he were a celebrity.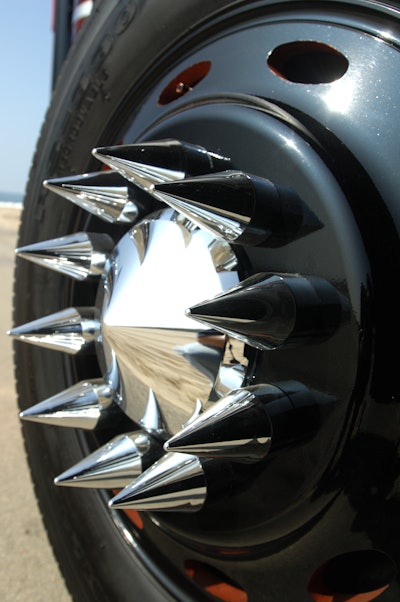 Inside the sprawling operation the gantry crane operators and industrial forklift drivers take extra care loading his deck with tons of pre-cast concrete highway dividers, underground vaults, railroad beds, or any other of a dozen items Martinez might be burdened with that day.
Rubio appreciates the respect. But the jovial trucker knows it's really his truck that's the attraction.
Rubio has a passion for movies on DVD, and when the "Pirates of the Caribbean" trilogy came out, he and his kids fell in love with it and he decided to paint his rig in the movies' theme.
Spec's:TRUCK NAME:Dead Man's ChestONWER:Jessica Martinez Trucking, Mira Loma, Calif.DRIVER: Ernesto MartinezMAKE/MODEL: '89 Peterbilt 379ENGINE: Caterpillar, 425 hp

TRANSMISSION: Eaton 18-speed

PAINT: Tangerine over silver brass/black; lettering by Wild Bill

GRAPHICS: Isaac Espinoza, Infectious Designs Custom Paint

INTERIOR MODS: Chrysler Towncar front seats

EXTERIOR MODS: Alcoa wheels, custom visor and rear light bar
Dead Man's Chest, the Cat-powered '89 Peterbilt he drives for Jessica Martinez Trucking out of nearby Mira Loma, isn't the work of some big-money shop or deep-pocket owners. It's just the opposite: All the work was done on a very limited budget in a small, open-front garage behind his house.
Leaving the interior in its old-school utilitarian state, he laid on a tangerine and black paint scheme — right down to the stacks, bumpers, and wheels — then enlisted his friend, airbrush artist Isaac Espinoza of Infectious Designs Custom Paint, to put a small pirate's bandana at the back of the sleeper roof.  The bandana idea opened up a whole new concept.
"As the colors and simple thought of a pirate's bandana broke through," reminisces his sister-in-law, Sherry Martinez, "the life of the truck began. The driver became the pirate and the truck his treasure chest."
The transformation drove the entire Martinez clan to pitch in and go for the gold, much like Captain Jack Sparrow's quest for treasure in the movies.
While Espinoza worked feverishly on the cab and sleeper illustrations, Rubio, with the help of other family members, went about custom painting and pinstriping the fenders, rails and fuel tanks and fabricating a visor and rear light bar — all in the back yard of their modest Mira Loma ranchette.
The interior of the cab and sleeper haven't been touched. But Rubio says he has some ideas of how to customize them as well as time—and money—allow. Until that happens he's enjoying the moment.
"My kids love my truck, and I enjoy seeing the faces of kids in the cars when they pass by. They are all smiles and waving, and a lot of them have their cell phones out taking pictures," says Rubio. "We're just having fun with it."