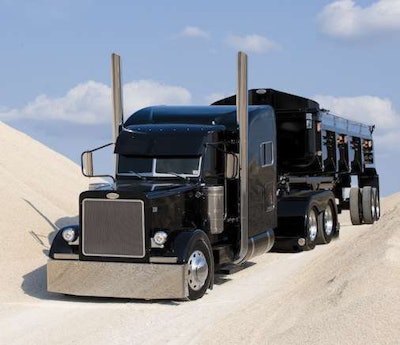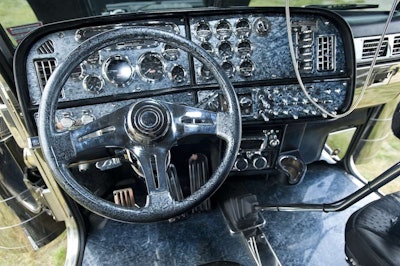 Hank Hall's 2004 Peterbilt 379 is a common sight on I-10 between San Antonio and Port Arthur, Texas, and while nearly all of the rigs in his 30-truck fleet show off a bit of custom work, his personal truck — Vamonos, as he's dubbed it — is the golden child.
"We eat, sleep and breathe trucking in our family," says Hall, owner of Hall's Trucking, which began in 1960 with Hank's dad, Frank. The company currently serves South Texas aggregate, topsoil and contaminant operations.
Vamonos sports a sleeper chopped 7 inches and suicide doors with one-piece windows, along with custom mirror brackets from 12ga. Customs, Fibertech fenders, a custom billet grille and an Aranda stainless-steel front bumper with a flip-up kit, all topped off with DuPont's ChromaBase Jet Black paint.
Hall's boot collection served as inspiration for the truck's interior. He owns "60 pairs of boots, most of them ostrich skin," and Vamonos' inside paneling and seats are made of the same, while the floor, dash and steering wheel boast a clear coat-covered marbleized base.
And with a name like Vamonos, Hall couldn't skimp on under-the-hood adjustments, and he's upped the truck's horsepower to the befitting "somewhere north of 650" horsepower range.