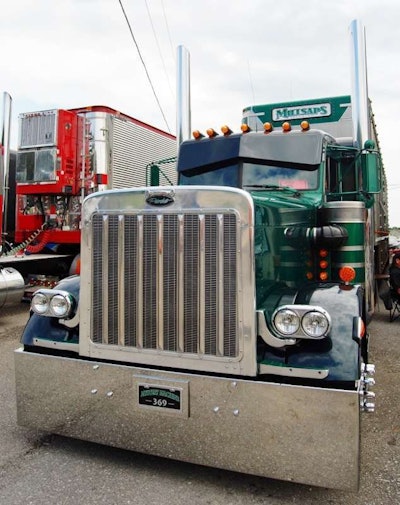 He's not sure if he was the first one to do it or just one in a line of similar rigs, but he knows at least that he's never seen one like it personally and that, when he talked to the folks at 4 State Trucks about what he was looking to do back three years ago now, they told him they'd had similar requests from a host of owner-operators over the years — and he was the only one who'd followed through on the idea.
I'm talking about the "Mystery Machine" here pictured, a 2002 Peterbilt 379 that Statesville, N.C.-based owner Ronald Millsaps modified up front to look like a 359 — hence the altered "369" model number Millsaps and his wife, Rose, bestowed upon the bull-hauling tractor with a front-bumper plate that reads "Mystery Machine 369."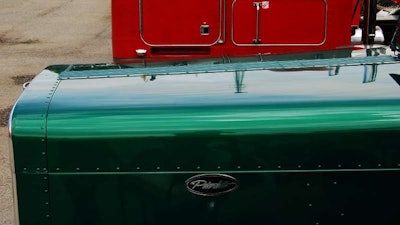 Find visuals of the modifications he's done to the Peterbilt's front end to accommodate the 359-style breathers and more in the gallery below. One crucial element of the design that he initially overlooked — the connecting piece running down the center top of the hood, which he left virtually unmodified at first. A driver on the CB pointed out the inconsistency after telling Millsaps his truck looked like a sort of "fat 359" when he saw it initially, but the skinny bracing piece on the hood gave it away as a 379.
Today, the piece is wider, as it was on the 359s, he says.
Millsaps runs as an independent, loaded both ways hauling livestock out toward Kansas from a site in Gaffney, S.C., then back to a different Gaffney facility "within seven miles," he says, of his outbound load site.