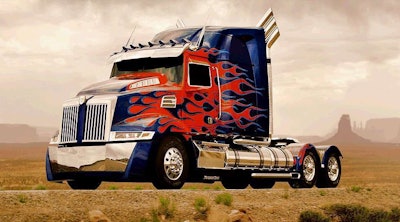 In a photo sneak-peak of the upcoming Transformers 4 movie currently in production, filmaker Michael Bay unveiled the photo above, marking Western Star's entrance into the Transformers series.
Here's the official statement from Daimler, parent company of Western Star and Freightliner:
"Daimler Trucks North America is excited to collaborate with Paramount on Michael Bay's forthcoming Transformers 4.  This movie will feature a new truck now in development from Western Star that showcases the next level of innovation in the trucking industry. The new Western Star truck will be unveiled in 2014."
Click here to see Overdrive's past coverage of trucks featured in the Transformers films.