The pride and joy of Mike Manuel's 30-truck flatbed-hauling fleet is a stunning Peterbilt 359 hooked to a 2003 Benson flatbed that goes somewhere I've personally never really seen an airbrush artist go on a big tractor-trailer combination — into a painted faux-woodgrain style that extends well belowdecks onto the frame, landing gear and all else besides. It's the work of a Virginia-based artist by the name of Chris Layne, close by to Manuel's location in Front Royal, Va.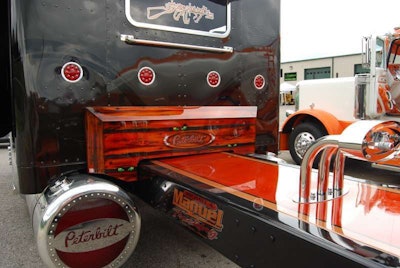 I saw the recently completed unit at the Pride & Polish show over the weekend at Fitzgerald's in Crossville, Tenn. The artist Layne spent "two full weeks of airbrushing" on the trailer, says Manuel, also putting in time on the box on the back of the cab to put the final touches on a rig Manuel pulled out of the fleet last year to turn into the custom showpiece it is today. Why do it? For several reasons, says Manuel, some of which I'll share in further reporting later on. The one that stands out, though, is the business purpose of such a combo unit. Manuel "started with one truck," he says. "I think everyone needs to go out and see their customers as much as possible. That's why we built this. I'm in the hauling business, so my trucks will represent me."
You couldn't ask for a better representative than this, I'd say. What do you think? More photos in the gallery below.