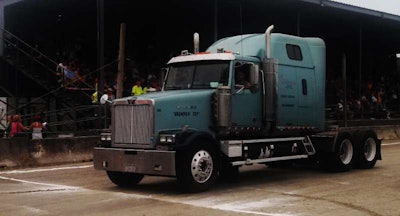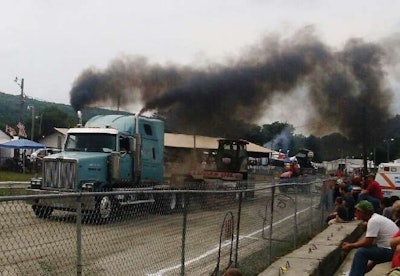 Longtime owner-operator Ralph Dineen's 2000 Western Star (pictured) came out on top of the truck pull at last week's Broome County Fair in Whitney Point, N.Y., but this year it wasn't Dineen behind the wheel, he says, but rather his son, 24-year-old Ralph Dineen Jr., who piloted the rig toward a win over three other competitors in the 476-hp-and-up class. Coming in second was the Western Star of Erich Owens, which I wrote about last week.
Dineen Jr. went 318 feet pulling the sled, which increases its resistance the farther you go, Owens "280-something feet," says the elder Dineen, who's characteristically (in more ways than one) wise about his son's and truck's win. "If you're going to be a bear, I always say, be a grizzly. Plan on the worst happening, and if you get lucky and everything goes your way, it worked. Every event we go to, I always tell everyone that we all come in as a zero, and one of us will leave as a hero." The beauty of the friendly competition that goes on at such events, he adds, is that "you can't go backward. The worst thing that can happen is you'll leave a zero just like you came in."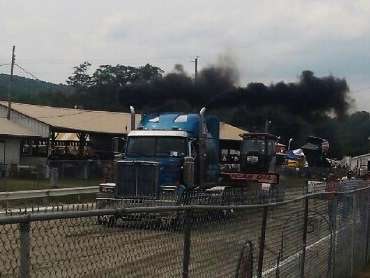 With Owens (pictured in action at right), owner-operator Ralph Dineen runs the Serious Series 60 Performance Diesel side business you can find more about in this post. His own Western Star is the first truck he ever bought new, he says, powered by a then-stock 500-hp Detroit 12.7 liter. At the 2012 Diesel Nationals last September, the rig ran the quarter-mile in 15.9 seconds at a top speed of 90 mph, an indication of the work he and his son, who's been working himself on the rig since he was 12 years old, have put into the power train. Dineen, also a late-model stock car circle-track racer when he was living in San Diego in the 1970s and '80s, says he "got involved in playing [with the Western Star] here and there, and then went on and on and on with it."
He says he figures the Broome County event drew 60 trucks all told "for the Show and Shine and the pull together," quite a turnout.
Find videos of the Dineens' and Owens' runs below, likewise a gallery of images from the event, courtesy of Ralph's daughter, Denise.
[youtube pox9_rjcejA nolink]
[youtube LGXUN_BJrTA nolink]