A little advance word today on events upcoming east of the Mississippi this weekend — I'll be out at the Expedite Expo show in Wilmington, Ohio, tomorrow (Friday, July 26) and Saturday covering the show, long recommended to me by various owner-operators among my sources both inside and outside the expediting niche. Look for updates via my Twitter feed as well as in stories here at OverdriveOnline.com and on the blog — involved is a series of workshops/seminars covering sundry business and regulatory topics, as well as what could be quite a truck beauty show, given the elaborate interiors that expediters are somewhat notorious for.
In any case, if you're passing through the area — it's at the Roberts Convention Centre off I-71 exit 50 in Wilmington — stop in. The show is free for attendees.
Secondly, I had a conversation several weeks back now with Pennsylvania-based owner-operator Erich Owens, his business running circles regionally hauling among other things scrap drywall and serving the mushroom-growing industry with the finished, recycled product. Owens has "been around trucks my whole life," he says, "starting out running 10-wheelers knee-high to a grasshopper," virtually. Today, "we run four trucks with [trailers with] walking floors, and we're in the recycling business," running freight for one of the largest drywall recyclers on the East Coast (they use the gypsum in their compost). The fleet likewise runs some step-deck/flat freight.
We were talking about Owens' 2001 Western Star, pictured below, powered by a 12.7-L Detroit, 500-hp as stock, but Owens has put no small amount of work into it to turn it into a machine capable of the kinds of performance you'll see at the truck pull this Saturday at the Broome County Fair in Whitney Point, N.Y., what Owens calls the "biggest pull in the Northeast" and participated in by quite a family of owner-operators.
The 12.7 Detroit and the Western Star it powers, after Owens acquired it more than a decade ago, began its tour through various modification when he "reflashed the computer" and ran "at about 610-630 horse with the computer upgrade. With horsepower, you get the itch, and in 2005, I got the pulling itch" in a big way, he says. "To be competitive in this motorsport, you have to build horsepower."
The sport, he says, is one dominated primarily by Caterpillar and Cummins engines "making about 800-900 horsepower." With the Detroit, "I just wanted to try something different."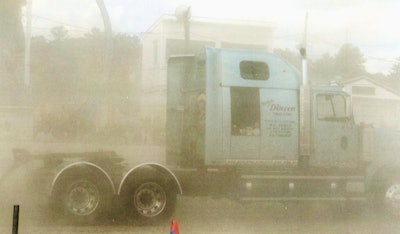 He met Ralph Dineen along the way. "Back in 2005," says Owens, Dineen's "12.7 Detroit was the baddest engine" in the 1,500-1,700-horsepower range. (His truck is pictured in action at the top.) "When you see that in action — and the guy then puts the air pressure back in the tires," hooks to a trailer and proceeds on his way as an everyday driver, it's impressive. "I wanted to do this with something I actually drove."
Today, he's done it. When he runs in the business, "I'm at 750 horse," he says. When his Western Star goes to play out at the truck pull, with a few tweaks "we're at about 2,000 horse." It's a matter of, in part, programming that pushes around 75 percent more fuel to "marine injectors, a marine cam — I built my own turbo for the right air/fuel ratio," says Owens. "The motor spins at 3,200 rpm, while stock is about 2,100. Along with that we have to beef up the drivetrain, and keep in consideration that I drive this thing…. I really appreciate guys who can run their trucks and build big horsepower [at a pull] and then go back to work."
"With horsepower, you don't have to spend a lot of money to get it, and you can do it yourself. If you're an owner-operator or a small fleet owner, with the economy the way it is, you've got to be creative." –Erich Owens
And there are a lot of them at the Broome County event, perennially, Owens says, the truck show attendant to the pull less an event where spectators ogle flashy exteriors — "though I do, too, appreciate a good-looking truck," Owens says — than one where you'll see groups huddled around an open hood.
Owens and Dineen are in business today — "for about the past six years" — as Serious Series 60 Performance Diesel, which you can find more information about here, an outgrowth of the work they've put into their own rigs in a performance-mods world geared too often toward Cummins and Caterpillar, Owens says. Their shop, which he works out of on a typical week on Friday and Saturday, much of the remainder of the week spent trucking, is in Millville, Pa. "Ninety percent of all my customers just want a little more horsepower and a little more fuel mileage," he says. "We won't sell anything we don't [or haven't] run…. With horsepower, you don't have to spend a lot of money to get it, and you can do it yourself. If you're an owner-operator or a small fleet owner, with the economy the way it is, you've got to be creative."
You'll find Owens and company this weekend at the Broome County event, which he says is one appropriate for all manner of people, including children. "We're there normally by 8-9 in the morning. We pull in the afternoon," he says. The truck show officially starts at noon.