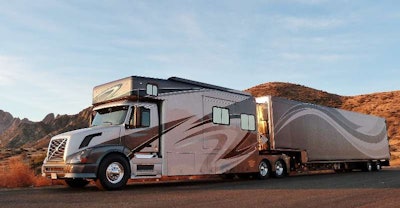 Wow, right? I talked with the owners of this beautiful combo (pictured, right) this past week, part of a bit of reporting I've been working on for the August issue. They're the 36-year-old Landstar Ranger-leased owner-operators Jon and Miriam Brown of Temple, Texas, who I dare say have dared themselves to take on freight hauling in a manner a bit dissimilar to many out on the road today. This rig, a 2012 Volvo VNL300 that came out of the factor as a custom-chassis daycab, was put together in 2011 by Show Hauler Motorhome Conversions — the only comparable rig I've seen is Hyler Bracey/Cass Flagg's KW conversion (done by NRC Truck Conversions in the same Indiana town as Show Hauler), which I wrote about last year.
There's a big difference between the two, however, and it's in the punishment the two vehicles take. Bracey and Cass use their KW for recreation, more or less, toting custom farm tractors to shows around the nation. The Browns are a different story, the team averaging the last few years around 110,000 miles hauling specialized freight in the 2006 Noonan curtainside step deck, the curtainside set-up, with hard van-style back doors, done by Quick Draw Tarpaulin Systems in Franklin, Ky.
Following years running a truck with a big Double Eagle bunk, this more elaborate setup has been a helpful part of the Browns' overall approach to the business. Keeping this unit in tip-top shape and clean as a whistle leaves a lasting impression, they say, on customers. Any enterprise market "rewards professionalism," says Jon, "for doing an excellent job of taking care of your customers. You'll reap what you sow."
They've done that, in spades.
Fringe benefits include riding with all the creature comforts of home, but not only that: "We've got surfboards and bikes on the truck," says Miriam, and they get to the beach or out on the road to exercise as much as they can (both are also active runners as well, with marathons under their belts).
Oddly enough, this summer hasn't presented an opportunity for riding the waves. Cross your fingers for a California load for the Browns — their 2012 model truck ought to be in the clear of CARB regs for some time to come. Check out further photography of their unit in the gallery below.