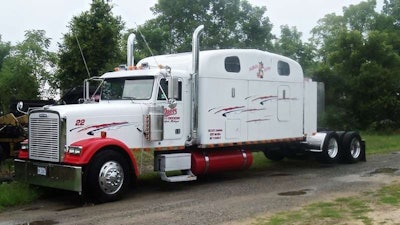 In some ways, it was a discouraging year for truckers in 2014, marked by the prospect of more regulation with the electronic-logs mandate introduced in March and the talk of both an impending speed-limiter requirement that may well require retrofit of many in-use units and a boosted insurance minimum. Meanwhile, the EPA was doing more than just talking when they signaled to California the go-ahead to enforce requirements on in-use trailers, tractors and other equipment under its GHG rule.
But with perhaps the biggest story of the year, the restart rollback, coming wrapped in time for Christmas from Congress, and well better than typical rates on the spot market since the Spring, among other news (diesel prices: down, down, down), truckers could be forgiven for feeling positive about business prospects in 2015. Even with the 2013-introduced hours changes, at the end of last year the picture was in some ways similar, with freight picking up in many segments and rates improving. A majority of truckers felt good about the coming year when we embarked on an uncommonly frigid winter season last time around.
So here's to officially starting the year in review, which this year will thread a needle through the top 20 or so most-read stories on the Channel 19 blog, with a question. How are you feeling about the coming year? Tell us in the poll.
No. 20) Landstar-leased owner-operators Keith and Vickie Sampson dropped under my radar after Keith's entry in and ultimate winning of Overdrive's Trucker Talent Search music event at the Great American Trucking Show, where I had the opportunity to meet both of them.
There, as a matter of course, they told me about their truck and trailer, the latter newly painted to match the Volvo, outfitted with a 156-inch ARI sleeper that turned plenty of heads in this story sharing several photos of the unit.
Other custom rigs-in-progress ranked high on the blog this year, too. No. 14 was owner-operator Derek Smith's sharp Project Triple Threat 379 Peterbilt, the independent sharing several pictures of the 333-inch stretch he put on the 2005-model-year rig as it was being done, in part with Souderton, Pa.-based Trinity Kustomz.
Moving up the rankings, Anthony Fischkelta's profile among independents — following his well-known Project 351 Kenworth, named for its wheelbase, one-upping Richie Acosta's Project 350 Peterbilt, from several years back — moved up a bit with a new 2014 Kenworth project truck at No. 7 in the rankings. We caught him in early stages first, after taking delivery of the factory unit.
Later coverage highlighted the finished (for now) product, old-school all the way with a tight bunk, flat top and some neat mods that better accommodated contemporary truck-emissions equipment.
Michigan-based independent owner-operator Melvin Davis Jr., following some of my initial 2013 coverage of his 1988 Freightliner FLD conventional and its sleeper custom-built from two mated 60-inch factory units, he followed through this year with work on a 2000 Freightliner Classic that he gave a similar treatment, calling it his "Hillbilly Hilton" and claiming the No. 11 spot on the Channel 19 2014 list. We caught it fresh out of the body shop before ultimate finish at that link, and you can catch more of the photos in the gallery below.
The finished unit went on to bag a few trophies at a regional show later in the year, too.
Topping the list of featured rigs at No. 3 overall was a brief item on Landstar-leased Jon and Miriam Brown and Volvo's break-out feature in its "Welcome to my Cab" video series of operator profiles about them. I'd written more about the couple's 2012 Volvo VNL300 custom chassis in 2013, actually. The unit was ordered as a daycab and converted to a touring freight hauler by Showhauler Motorhome Conversions. The Noon step deck features a curtainside kit (with rigid van-style rear doors) by Quick Draw Tarpaulin Systems in Franklin, Ky.
As I wrote this year, the Browns "turned more than a few heads with their operating style — living on the road, primarily, with a heavy emphasis on taking full advantage of recreational opportunities wherever they go (they pack bikes, surfboards, etc. for the long haul)."
Check out their unit in the gallery below:
[imagebrowser id=70]