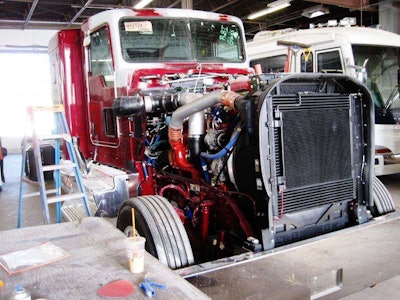 Anthony Fischkelta is looking toward Mid-America next month with his latest project truck, the 2014 Kenworth W900 with a 331-inch wheelbase shown above. Though he's not sure he'll get it finished in time for the big show (the above shot shows progress as of Feb. 4), this one ought to be a treat on par with his last one, the Project 351 rig you can read more about here. He spec'd the unit with a short "42-inch bunk … You don't see many of them anymore," he says. It's in keeping with his intention to go "old school" with the rig — plenty of stainless.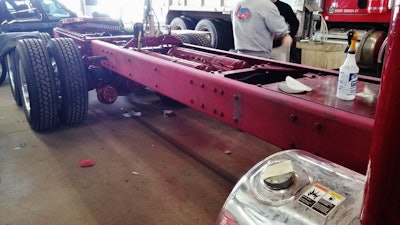 12Ga Customs and 4 State Trucks "have supplied a lot of custom stuff, and I'm excited to finish it," he says. The unit is powered by a 600-hp Cummins rated at 2,050 lb.-ft. of torque. "I put the DEF tank inside the driver step," Fischkelta says, "so you will not see an extra tank." An in-frame stainless deck plate will run from the back of the sleeper to the end of the frame with a "rear bumper setup that Bryan Martin [of 4 State] and I designed."
Other features will include a 12Ga custom visor and "custom two-inch panels under the cab and sleeper," he adds.
Looking forward? I know I am. Following find further shots of the work in progress.