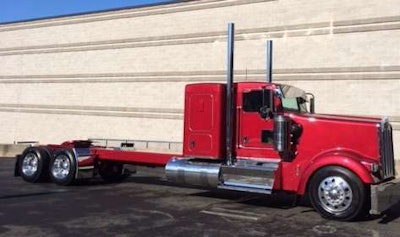 Moonachie, N.J.-based Grand Street Warehouse owner-operator Anthony Fischkelta spent more than a year of planning and work with the Kenworth factory and, later, in his own and other shops, on this old-school-styled custom rig now running the roads hauling reefer freight between New Jersey and Boston. Compared to his last rig, the 351-inch-wheelbase Project 351, which he's sold and which we looked back on in this month's issue, the 331-inch 2014 Kenworth W900 is a veritable runt — with a flat-top design and small sleeper. But in this case, that's a good thing, says Fischkelta, who calls it a "more practical," as it were, take on the long and low custom rig. It's powered by a 600-hp 2010-emissions-spec Cummins.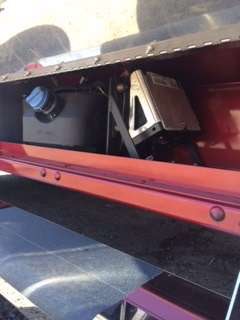 Among the more interesting modifications he put into the rig is an eight-gallon DEF tank that he's "removed from the frame and put in the driver step," he says. He spec'ed battery placement betweeen the frame rails — "you can order it from the factory that way."
In terms of its operation with the engine, it works just great, says Fischkelta, but as with so many changes, it comes with a trade-off, but just one as far as he can see thus far. Given the tank is more than twice as small as most stock DEF tanks, "every 600 miles you have to fill it up," he says.
Nonetheless, the change is getting a lot of attention on those stops from drivers. "I did something different and I'm getting results out of it," enough said.
Outside of the steps, which came ready-made, all stainless/chrome parts, from both front and rear bumpers (4 State) and the visor (12 Ga.) to the mirror brackets, were designed in concert with Fischkelta by custom shops around North America. You can read more about just who in my prior post about it, with further shots of the rig in process, back in February.
It's done for now, Fischkelta says, but there's more to come, for sure. "The interior's still stock right now," he says. "I'll do the doors and floors but haven't figured out which way I want to go with it." Stay tuned.
Pictures/detail of the rig follow in the gallery. Fischkelta says he's planning on taking the unit with his reefer trailer to Rotella's SuperRigs event, this year planned for Charlotte, N.C., May 15-17.