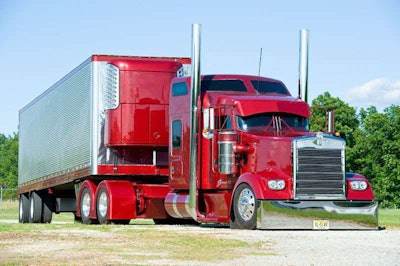 Truck names come from a host of different origins – the occupation of the owner-operator, remembrance of a loved one, a favorite color, a movie hero or any number of other reasons. Two very custom rigs on the circuit take a different tack, getting their moniker from the wheelbase: Project 350 and Project 351. The latter takes its name from something of a challenge.
After Richie Acosta put together his now-infamous Project 350 custom Pete that was profiled in the pages of our sister magazine, Truckers News (March 2010), Acosta's childhood friend, Anthony Fischkelta, was determined to make his own KW project one better.
He spec'd it straight from Kenworth, working with Tri-State Diesel, a dealership the Fischkelta family has a long relationship with for several trucking generations moving product for their Moonachie, N.J.-based Grand Street Warehouse.
That close working relationship came in handy, as Anthony was about to get quite specific indeed about the specs he needed for his 2009 W900 KW, chief among them an odd wheelbase measurement: 351 inches. (One inch longer than his buddy's custom working class rig.)
"Originally, my truck was going to be a 42-in. flattop in a KW" to complement Acosta's 36-in. flattop Pete, says Fischkelta. "But at the last minute, matter of fact it cost me $1,000 to change the spec it was so last minute, I switched to a 72-in. Aerocab sleeper."
"There is a big market for that [style] truck," says Fischkelta about the decision, but resale considerations weren't the only factors involved. "I chose to do that hoping to inspire other Aerocab owners that enjoy working on their rides."
Fischkelta has spent a lot of time fabricating, personalizing and customizing his truck to make it stand out while keeping it functional. The drop air suspension slams the bumper within an inch of the ground, and the other custom touches inside and out make this rolling office a real head-turner.
After more than two years' worth of work on the KW, it's clear he's been abundantly successful in his mission to inspire today, as "Project 351" has become something of a sensation among fellow full-time haulers and custom rig enthusiasts who've lit up Fischkelta's Facebook page with commendations, questions and pictures from the road.
At first, he documented progress on the rig via a static website. But when he moved to the social platform last year he suddenly found out very clearly how he was doing in getting the word out about the project.
"I never knew how many people follow this truck," he says. "If they're a truck fan, they pretty much know about it. I don't need to solicit people. And I never knew it."
Spec's
Truck: Project 351
Owner: Anthony and Richard Fischkelta/Grand Street Warehouse, Moonachie, N.J.
Model: 2009 Kenworth W900L, 351-in. WB
Engine: 700-hp Cummins ISX
Transmission: Eaton-Fuller 18
Exterior mods: Custom cab/sleeper panels; 12Ga visor; fiberglass deckplate and fiberglass rear fenders; custom axle covers and tank covers in the rear; one-piece steps designed with 4 State Trucks; HID headlights; custom grille; 20-inch bumpe; air-ride w/ 12Ga Customs suspension drop kit; custom window shades; eight-inch exhaust; custom hidden hood latches
Interior mods: Stainless floor, ceiling and cab sides; painted dash; custom inserts supplied by 4 State Trucks