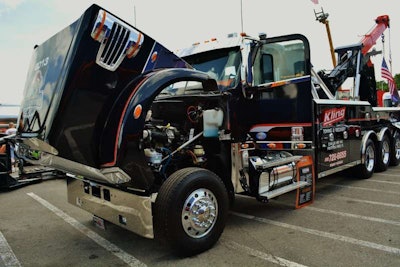 Kling Towing and Recovery's "Black Pearl" 2013 Freightliner 122SD, trimmed with no shortage of chrome and painted a rich black, has been making the truck show rounds this year, including the big Mid-America event in Louisville, Ky., and Overdrive's Pride & Polish at the 75 Chrome Shop in Wildwood, Fla., where it placed 2nd in the Specialized category and 2nd and 3rd, respectively, in Paint and Engine.
Located in Fruitland Park, Fla., Kling is known for tractor-trailer, fire-truck, ladder-truck and bus recovery. Daimler Trucks North America Marketing Manager Randy Smith says this rig represents the "first pre-series 122SD truck we have built for a wrecker, so we wanted to make it an absolute beast, which is why we teamed up with Miller Industries." Miller Industries commonly builds wreckers for heavy haul applications, and fit their Century 9055 wrecker body with 50-ton recovery boom (pulling up to 100,000 lbs.) built over the 122SD chassis to spec.
The rig is powered by a 505-hp Detroit DD15TC engine and new Eaton UltraShift Plus transmission, recently reprogrammed by Eaton for true severe duty applications with the Eaton Cobra Vocational shifter. The backbone of the chassis is spec'd with a 16,000-lb. Detroit front axle with 18,000-lb. suspension, a Hendrickson HLM-2 20,000 lb. non-steer airlift pusher axle and suspension, and a Meritor 46,000-lb. rear axle with Freightliner 46,000-lb. AirLiner rear suspension.