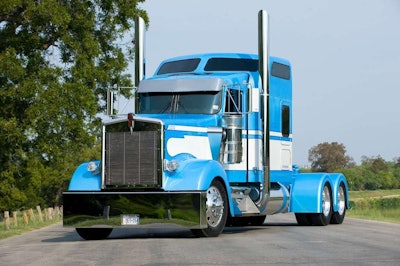 Eleven months out of the year, Bill Hall Jr.'s 2004 Kenworth W900L is a hardworking truck, driven by Hall's son, Justin, 80,000 miles across hot, dusty Texas fields hauling gravel, sand and asphalt. But each August, Hall's El Patron takes a break. The rig is cleaned, repainted and made ready for its annual beauty show appearance at Overdrive's Pride & Polish show at the Great American Trucking Show in Dallas.
See more photos below.
"Every year we shut it down for about a month and go through it and pretty much have to paint the entire bottom half of the truck because of all the rock chips it accumulates," says Hall, owner of the eponymous 117-truck fleet.
Texas Chrome Shop was given a $25,000 budget to do the original customization of the KW in 2008, Hall says. Hall and crew have made modifications since with their help. He estimates it costs $5,000 to $7,000 every year to get El Patron ready for the show each year.
Hall calls the truck color "nightmare blue" because it's a "nightmare every time we go to a show to touch up the fenders. The paint is a special blend, and there's a special way to apply it to get it to match." He estimates the original paint job cost $25,000.
Hall shuns gaudy graphics and over-the-top add-ons for more subtle modifications that appeal to judges. For example, he had the front fenders extended to make them appear lower to the ground. The billet grille was machined with a diamond cut, and custom-made grille bars were added, both this year. Inset in the KW emblem on the grille is the name El Patron. The boltless 22-in. front bumper can be raised and lowered remotely from the cab.
Enamored with his customized American Iron Horse Chopper motorcycle, Hall ordered the motorcycle headlights for his truck. The headlight bracket is a customized piece of aluminum.
South Texas Industrial fabricated a rear T bumper, and Bad Ass made the double hump fenders. Both bumper and fenders were fitted and installed by Texas Chrome. Franco Custom Cycles' C&C department milled the grille, headlight brackets and emblems.
Many truck customizers try to hide the fuel tanks beneath the cab for a smooth, clean look. Hall's team solved the problem by placing a specially made pair of 150-gallon tanks completely under the sleeper and attaching 4-in. mandrill-bended tubes to provide fueling access. "The tubes are the only thing that stick out beyond the sleeper," Hall says.
The Legacy low rider seats are black leather, diamond-shape button tuck with silver stitching. The KW emblem with El Patron lettering appears on both seats and armrests. The dashboard is painted silver in a brushed aluminum effect to match, and a chrome shifter knob was added to the factory stick shift.