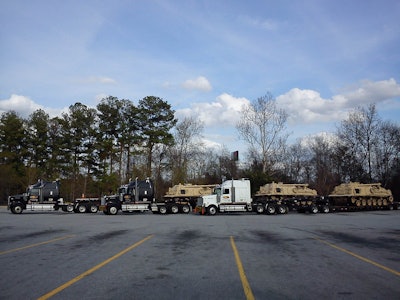 In addition to hauling equipment, freight, produce and more, Next Exit Logistics hauls military shipments locally, nationally and internationally as an approved Department of Defense contractor.
The Western Star full-axle tractors pictured here hauled three M88 tanks weighing 108,000 pounds each. Chandler Magann, president of the DeSoto, Texas-based company, says that planning and time management are key when hauling military equipment and that one of the biggest challenges is securing permits for each state the trucks travel through; different states have different rules for the heavy-duty equipment, with some requiring an escort and others not.
When multiple drivers are hauling equipment to the same place, such as the three trucks pictured above, they can help each other with chaining down the haul, but they cannot create a convoy on the road for the safety of other drivers.