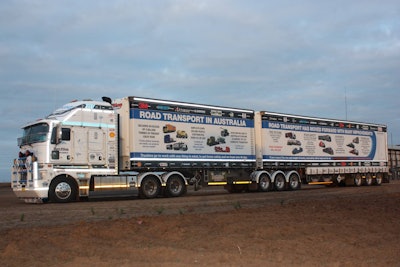 Australian owner-operator Rod Hannifey sent in this shot of his Kenworth K200 cabover and double curtainside flats that run the roads down under hauling freight and promoting share-the-road-type initiatives as well as driver-advocacy over parking and other issues there.
"Taken as the sun rose behind me before unloading at a property at Hillston in western New South Wales," Hannifey wrote of the picture, "the 3M Conspicuity Tape stands out well. The TRUCKRIGHT Industry Vehicle is a working linehaul K200 big cab KW with tautliner trailers that aims to promote the road transport industry and road safety." You can find more about Hannifey via Truckright.com.au.
And is there a U.S. equivalent of this? I know there are a fair amount of the No Zone trailers still running the roads, and OOIDA's rig is out there as well. Individual operators like Todd Modderman take no shortage of time out of their business lives to educate young drivers about sharing the road with big rigs. But has any single owner-operator out there gone to this extent with a truck in the name of safety and driver advocacy? Tell me, or remind me of what I'm not remembering, in the comments here.
[youtube bpiWdfZ-hOw#t=76 nolink]