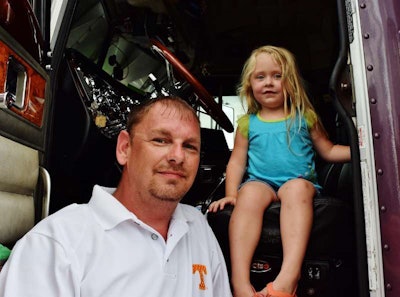 It was quite a scene around David McDaniel's 2002 Moore Freight Service-leased Peterbilt 379 last weekend at the Pride & Polish in Crossville, Tenn. The truck he's dubbed "The Mistress" on account of something of a quip his wife, Kelli, offered years ago about where the owner-operator spends most of his time (though officially Kelli disputes this version of events, let it be known).
McDaniel's pictured at the top with his and Kelli's four-year-old, Desiree, who made it abundantly clear the kind of fascination young children have with trucks and trucking. As we talked, she climbed up into the cab with her father's help, and McDaniel patiently explained the gauges and what they do in response to her queries way up in the driver's seat.
The Mistress Pete, which we've featured in the magazine before, I managed to get some great photography of, including several unique features. Enjoy.