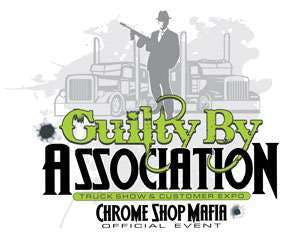 The seventh annual Guilty By Association Truck Show, hosted by 4 State Trucks, home of the Chrome Shop Mafia, will be held Sept. 25-26 in its corporate headquarters in Joplin, Mo.
The two-day family-friendly event is expected to attract in excess of 10,000 attendees and will feature at least 330 working show trucks, concerts by LIVEWIRE and Tony Justice, a kid's zone, food vendors, contests, a truck and tractor pull, fireworks, motorcycle stunt riders, bug rig burnouts, as well as discounted sale pricing on parts ad merchandise.
The show will culminate with the so-called world's largest truck convoy making its way to downtown Joplin on Saturday, Sept. 26, at 6 p.m. for a street party and celebration.
Last year's event set the record for number of trucks in a Special Olympics convoy, and it raised more than $73,000 for Special Olympics of Missouri. The goal in 2015 is to increase the number of trucks in the convoy while establishing a new record for funds raised.
For more information about the truck show, visit www.chromeshopmafia.com.  Information about the World's Largest Truck Convoy for Special Olympics is at www.somo.org/convoy.