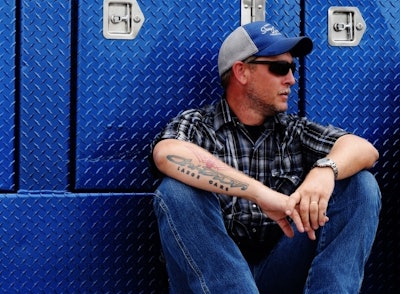 Meet Hayden Eady with his custom 1985 Peterbilt 359, shown in full below, leased to Falkville-based Bama Truck Line hauling open deck freight.
When I saw him out at the Crossville, Tenn., edition of Overdrive's Pride & Polish last month, I caught this logo on his custom headache rack (and tattooed on his arm).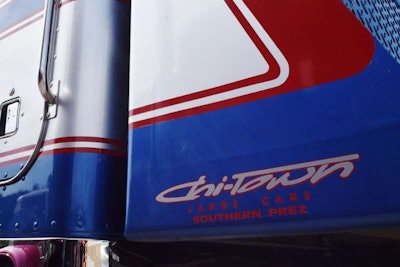 As the photo indicates, Eady is the Southern Chapter Prez of the Chi-Town Large Cars organization of around 150 or so members from three countries. The nonprofit was founded by two Chicago-area truckers, Kris Santoianni and Mario Terzo Jr., inspired in part by Richie Acosta's East Coast Large Cars group and a general desire to improve the image and reality of the trucking industry. Catch a narrative of how they formed at the group's website.
Eady got involved around three years ago, attendant to one of the annual shows they put on in the region around the Midwest metropolis. Last year, he says, the group raised more than $10,000 for the AshleyCan Pediatric Cancer Foundation, in just a single day of a truck show and good time of fun and fellowship with fellow truckers in a parking lot.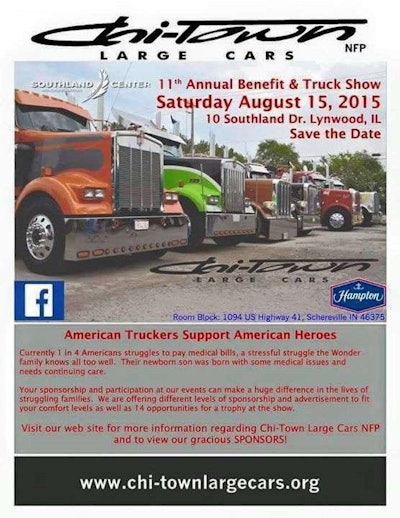 In short, the stuff of trucking days of yore that, despite the most dire of prognostications from skeptics about driver-to-driver camaraderie, exists in many corners of the trucking community.
This year's Annual Benefit and Truck Show, August 15 at the Southland Center in Lynwood, Ill., will in part benefit the family of Seth George Wonders, born prematurely at just more than a pound in weight, then spending the first six months of his life in hospital. Medical bills continue to take a toll on the family and others similarly situated. The video at this link tells the Wonders' story in part.
"We're all about trying to bring back some of the old ways" in trucking, among truck owners and drivers, says Eady. Some of that is camaraderie, more is evidenced by the philanthropic spirit of events like this. Again, check out the group, and more information about the show, at the website and their Facebook page.
Find further views of Eady's 359 below.