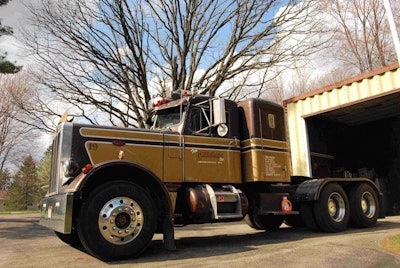 Reader Al Zieher of Vesper, Wis., wrote in over the weekend to alert me to a problem with a 2012 story I wrote about Leon "Butch" Mueller, whose home I'd stopped off in on a route through Wisconsin with several other planned visits. The pictures I took that day, presented in a gallery with the original post, had gone AWOL, Zieher noted when he went online to show a friend a little piece of Wisconsin history in the 1971 Peterbilt 358 Mueller had driven for decades, logging almost all of his 4 million miles between its doors.
When we transitioned to a different photo gallery service for our stories on Overdrive Online.com back last year, a glitch in importing the old photos saw some files with the same name replaced by a single set. So: In the original 2012 post, the shots of Mueller's truck were now showing a series of photos of West Virginia-based owner-operator Chuck Timbrook's Black Out military-tribute 1999 Freightliner.
"It was nice of you guys to recognize [Mueller] and do the article," says Zieher. "His history with that truck really is amazing."
Zieher says he recalls well "when that truck was new. One day, my grandfather took me for a ride in his new Mercury. When we went by Butch's house, he pointed at the truck and said, 'that has a Caterpillar engine in it.' Of course, my young mind had a hard time trying to figure out how or why someone would take an engine out of a bulldozer and put it in a truck. I asked Butch about it years later, and he said it originally had a dual overhead cam Cat (possibly a 425-HP 1693). The engine had some problems, and it was too expensive to fix, so the 350 Cummins was installed."
Zieher says he's not been by to see Butch in quite some time and believe Mueller may have retired. "There was talk of the truck being put on display at Peterbilt of Wisconsin Pewaukee (Waukesha). Once the weather gets nicer around here I should stop and see Butch."
And "it would be nice to have the right pictures associated with the story. It is a very nice looking truck and is in incredible condition considering it went through over 40 Wisconsin winters."
So, Al, thanks for catching this and we'll do you one better. Here's text from my original post about Mueller's truck, and all the pictures are included in the gallery at the end.
Original story:
Yesterday at Roehl Transport, after a day of talking with TCA/Truckers News Company Driver of the Year John Moeller (pictured here behind me in one of his Roehl Freightliner Coronado's drives' hubs), Roehl President and COO Rick Roehl and I were talking about owner-operator Bryan Dax as I prepared to head off to Two Rivers, Wis., this morning to visit with him. Dax is owner of the 1990 Diamond Reo "Red Giant" truck I saw briefly in Nashville last year – Dax has turned the Reo in a mobile marketing vehicle, saving the beauty from years of hauling freight for Kaukauna Cheese.
In any case, Rick Roehl made mention of a vintage Pete he'd always made note of on drives between Roehl Transport's Marshfield headquarters and Wisconsin Rapids nearby. After Roehl gave me precise directions to the house, I decided to take a little detour down County Road F toward Rapids, where I found (pictured) Leon "Butch" Mueller and his wife, Janet. Semi-retired today, the 76-year-old Mueller makes intrastate milk runs two-three times a week in this 1971 Peterbilt 358. He's been driving it for Tom Gullickson of Gullickson Transport in Deerfield, Wis., since it was new, "the first or second Peterbilt conventional they sold out of Peterbilt in Waukesha," he says.
Powered by a 350 Cummins Big Cam, the rig's second engine, Butch Mueller's put every one of his almost 4 million miles down behind the rig's wheel. "I always dreamed of driving a Peterbilt conventional," he says he told Tom Gullickson's predecessor (his father Irving), when he bought it. "This is the last truck I'll ever need."
Big thanks to Roehl for the tip. And to Mueller for the hospitality. Enjoy the pictures of the rig at Mueller's place below.