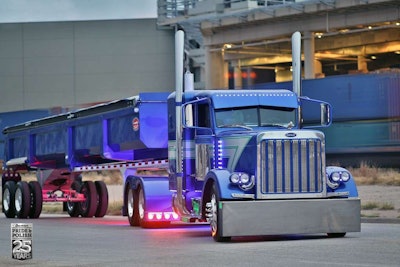 The 2016 Great American Trucking Show gets underway at noon on Thursday at the Kay Bailey Hutchison Center in Dallas, Texas. The show will feature hundreds of trucking exhibits and supplier booths, live entertainment, numerous show trucks, seminars and much more.
Some of the exciting events happening through Saturday include the 2015-2016 Pride & Polish National Championship finale, Overdrive's Partners in Business seminars, the finale of Overdrive's Trucker Talent Search and a concert by country star John Michael Montgomery.
Overdrive will be covering the show live on social media. Here's how to follow along:
Overdrive daily report: Sign up for Overdrive's daily newsletter to have the show's headlines sent directly to your inbox.
Facebook: Like Overdrive Magazine on Facebook for GATS highlights, including live video of the show's events, truck photos, news and equipment announcements and more.
Twitter: Follow @OverdriveUpdate on Twitter for a live look at what's happening in Dallas. For more in-depth show coverage, follow Overdrive Editor Max Heine (@maxheine), Overdrive Senior Editor Todd Dills (@channel19todd), Overdrive News Editor James Jaillet (@trucknewsJJ), Overdrive Equipment Editor Jason Cannon (@By_Jason_Cannon), Overdrive Blogger Wendy Parker (@truckingwithgnw) and Overdrive Associate Editor Matt Cole (@mattcoleRR).
Instagram: Be sure to also follow @OverdriveTrucking on Instagram to see even more show photos and videos.