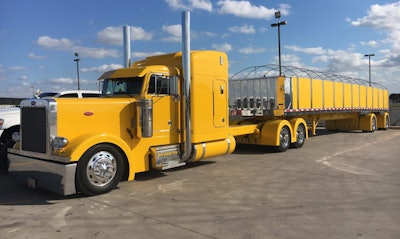 Mike Franzoy bought this 1992 Peterbilt 379 brand new in 1991. The truck is powered by a 450-horsepower Series 60 Detroit with an Eaton-Fuller 13-speed and 3:55 rears and is used to haul farm products in and around Deming, N.M. Over the years, Franzoy has stretched the frame to 318 inches, added Peterbilt low air leaf suspension, a rear window, Unibilt sleeper opening, billet grille, 359 headlights, a 20-inch box-end front bumper, 8-inch stacks, shaved cab lights, painted gangster-style drop visor, a custom rear drop visor and more.
The trailer is a 1999 Wilson 48×102 that he bought new. Custom work to the trailer includes the painted frame, fiberglass fenders, custom light panels on each axle, 24 LED button lights on each side of the trailer, custom rear bumper with integrated toolbox and LED lights and painted fiberglass side kit. All of the custom work on the truck was done by Shane Durkin at Durkin Diesel in Lemitar, N.M.
Click here to see more photos of reader uploads or to submit your own.