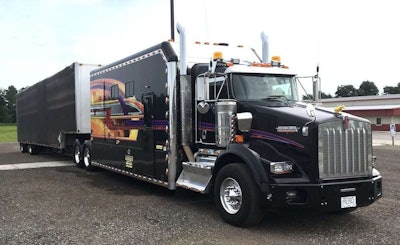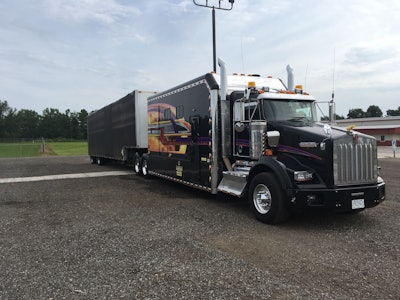 Ron and Liz Arguin's 2014 Kenworth T800 features a 230-inch ARI sleeper, which includes a five-foot garage with a Rampage power lift for Ron's 2014 Indian Chieftain motorcycle. The rig sports a 550-horsepower Cummins with 2,050 ft-lb of torque and a 13-speed with 40,000-pound, 3:55 rears.
Sitting on a 382-inch wheelbase, it also features rear-mounted, heated 150-gallon fuel tanks. The tare weight of the tractor alone, which includes the weight of Ron's motorcycle, is 33,520 pounds. The exterior features more than 360 lights, LED headlights, six docking lights, and a one-of-a-kind bright yellow powder-coated duck as the hood ornament. Inside the rig are heated seats, hardwood laminate floors and more.
The couple, originally from New Hampshire, now runs out of Humboldt, Tenn., for Landstar hauling a wide variety of freight. The Arguin's bought the truck from Larry and Sarah Hendrix, who were the original owners.
Click here to see more photos of reader uploads or to submit your own.