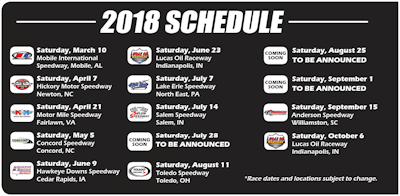 The Minimizer Bandit Big Rig Series will open its 2018 truck racing slate on March 10, in Mobile, Ala., and run a total of 14 races, culminating at Lucas Oil Raceway in Indianapolis on Oct. 6.
The truck racing series' organizers released most of its 2018 schedule in a Facebook post Monday. There are still three dates in which the track is yet to be announced.
Racers will see some familiar tracks that they saw during the series' inaugural season in 2017, along with several new tracks. The series will return to Hickory Motor Speedway in Newton, N.C., as well as Hawkeye Downs Speedway in Cedar Rapids, Iowa.
New tracks on the schedule for 2018 include Mobile International Speedway in Mobile, Ala.; Motor Mile Speedway in Fairlawn, Va.; Concord Speedway in Concord, N.C.; Lucas Oil Raceway in Indianapolis; Lake Erie Speedway in North East, Pa.; Salem Speedway in Salem, Ind.; Toledo Speedway in Toledo, Ohio; and Anderson Speedway in Williamston, S.C.