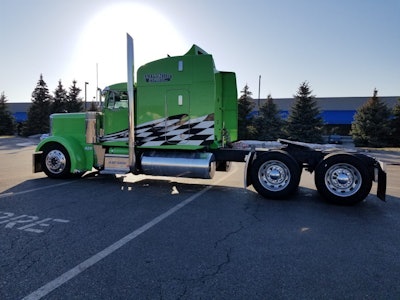 Independent owner-operator Jeremy Ward always liked the look of the 1995 Peterbilt 379 that his dad, Jerry, owned throughout the 2000s. He liked it so much that, a few years after his dad sold it in 2011, he went and bought it back for his own use, even entering into a lease-purchase program with the fleet that owned it to get his dad's old rig back under family ownership.
The 36-year-old Jeremy, out of Clare, Mich., was actually the first person to put a bug in his dad's ear about buying the truck around the year 2000, when Jeremy was just a teenager.
"I was in high school and saw the truck going down the freeway," he says. "I called my dad and told him I saw the coolest-looking Peterbilt. It was Kawasaki green with a checkered flag going down the side. Back then, you didn't see bright green trucks like you do now. He didn't seem interested then, but he ended up buying it about a year later."
In 2010, dad Jerry, who was an independent owner-operator himself, was ready to get out of the industry. He took the truck to a local trucking company, Hog Wild Transportation in Clare, Mich., and drove the truck for them for a year or so before they bought it from him.
"He always loved that truck," Jeremy says. "My plan was to buy it back and fix it up, maybe give it back to him. Now I use it in my own business."
Jeremy had been an independent owner-operator in the mid-2000s doing business as Wild Ride Express, but he sold all of his trucks in 2008, during the recession.
"I said in 2008 I'd never own another truck, but then I just had to buy this one because it was my dad's," he says. "It means a lot to me."
He approached Hog Wild about buying the truck in 2014. Since his dad had sold it to them, it had spent most of that period parked on the fleet's lot and was looking a little run down. He entered a lease-purchase with the company through April 2016 and started back out under Wild Ride Express.
Since beginning the lease-purchase in 2014, he has repainted the truck twice. The first time was to fix peeling paint on top of the sleeper and other areas, and the second time was a complete paint job to get everything matching again.
He also had to sand down the aluminum on the truck and re-polish it to get the shine back that he wanted in it. He says he's spending money "every day" on the truck doing different things to make it his own, while also keeping a classic look to it.
"It was in pretty rough condition when I bought it," Jeremy says. "The lights weren't matching, the original color of the truck, purple, was showing through on top of the sleeper, the clear coat was peeling. I redid the paint on it for the second time about six months ago."
He has kept the checkered flag on the side of the cab, which is still original. It was painted onto the truck by Truck Customs in Marion, Mich., around 1999, he says.
The engine, which is a 1999-model 550-hp Caterpillar 3406E, has 2.9 million miles on it today and has been rebuilt twice – once by Jerry Ward in 2007, and once by Jeremy in 2015. Jeremy says it just happened to work out that the engine was a 1999 and is ELD-exempt. "It had a '99 in it before my dad bought it," he says.
Some of the custom work Jeremy has done on the truck since he bought it includes switching out the dash so it matches the green of the exterior and adding green under glow lights.
"My dad has always been old school, but I'm new school," he says. "He loves chrome and I like things painted. With all my green under glow, he would have never run with it."
He also just recently had new air cleaners, a new visor, hood, grille and bumper put on the truck after a streak of bad luck in which he blew a steer tire and messed up the hood and front end, got that fixed, then hit a deer last October. Overall, Jeremy says he just wants the truck to be something he's proud of.
"It's not a show truck, but I take pride in it," he says. "I get a lot of compliments on it out on the road, and that makes me want to keep improving it."
Jeremy runs a dedicated route for Boar's Head out of Michigan to Phoenix every week, usually bringing produce back.
He says he hopes he can pass on his love of trucking, and this '95 Pete, to his 11-year-old stepson down the road. "He loves trucks," Jeremy says. "His dad is a log truck driver, and he's all about trucks. Maybe one day he'll take over this truck."
More photos of Ward's rig can be seen below: