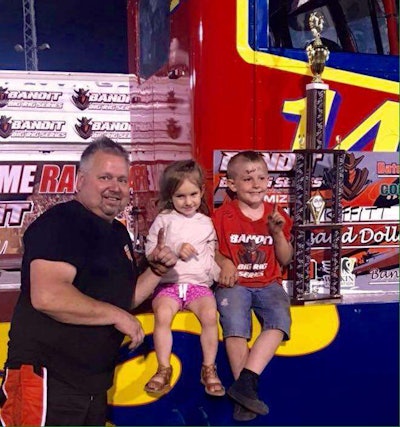 Defending Minimizer Bandit Big Rig Series champion Ricky "Rude" Proffitt had yet to reach victory lane in the 2018 season, but it turns out all he needed was to get back to a track in his home state of North Carolina.
Proffitt picked up his first win of the season on Saturday, May 5, at Concord Speedway in Concord, N.C., just a couple hours from his hometown of Weaverville, N.C.
"I'm glad to be back [in victory lane]," Proffitt said after the race. "This track is pretty rough, but I finally found a little groove to get me through it. Tyler [Kruckeberg] was putting up a good fight, and I was glad to get clear of him."
He started the race in ninth and worked his way up through the field. Just a few laps into the race, he had grabbed the lead and never looked back.
The first and only tri-oval on the Bandit schedule presented a number of challenges for the racers as five caution flags flew during the 30-lap feature race. The last two cautions of the race came when Proffitt had built a sizeable lead on the field, but each time, he was able to jump back in front and pull away.
Finishing behind Proffitt were Tyler Kruckeberg and Craig Kruckeberg, followed by Mark Noble in fourth and Jon Lisenbee in fifth.
Bandit Series racers have just over a month to prepare for their next race, which is scheduled for Saturday, June 9, at Hawkeye Downs Speedway in Cedar Rapids, Iowa.