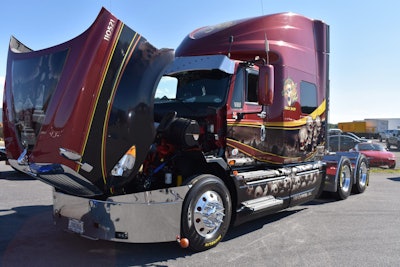 Robert Barnette, out of Lake City, Fla., started collecting skulls – jewelry and trinkets – as a hobby in the 1980s and 90s, which led, in part, to the theme of his 2011 International ProStar. The rig was on display last month at Shell Rotella SuperRigs at White's Travel Center in Raphine, Va.
As Barnette describes in the video above, the truck was involved in an accident two years ago, and his friend who fixed the truck up asked if he could mess around with the design. Barnette carries some of his deceased brother's ashes in his truck with him, so they came up with the idea of a graveyard that fits with his skull collection. The vinyl wrap has more than 100 skulls on the sides of the truck.
The idea also came up to do a headstone for his brother, and Barnette said if they do one for one brother, they also have to do headstones for his late parents and other brother. The four headstones are displayed on the truck's hood. To keep with the skull theme, he has added a pistol grip skull shifter and a skull steering wheel spinner.
Under the hood is a 600-hp Cummins with a 13-speed with nearly 1.4 million miles. Barnette, owner of Fat Boy Boogie Express, has been a trucker for 18 years and has been leased on with Swift as a driver trainer for the last six years. He hauls general freight, and occasionally does specialty entertainment hauls.
Barnette says the truck is always a head-turner when out on the road for its unique design from other truckers and the motoring public.