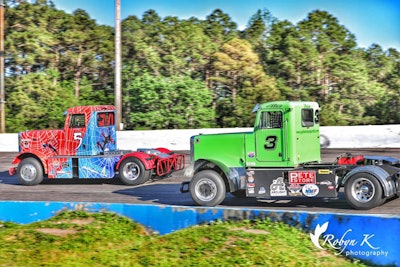 Update – Thursday, May 23, 8 a.m.: Bandit Big Rig Series organizers announced Wednesday evening that Friday's scheduled race at Madison International Speedway in Oregon, Wisconsin, has been postponed due to the threat of severe weather. The race has been rescheduled for Friday, Aug. 2.
The Bandits will now have to wait until Saturday, June 8, to return to the track at Salem Speedway in Salem, Indiana.
Original story follows:
The Bandit Big Rig Series will return to the track this Friday night, May 24, at Madison International Speedway in Oregon, Wisconsin.
Racing action will begin at 7 p.m., but there will be pre-race activities beginning at 3 p.m., including the Fan Series Truck Show, a driver meet and greet and more.
Through two races in the 2019 Bandit Series season, truck racing rookie Bendegúz Molnár holds a slim one-point lead over fellow Bandit Series rookie Tim Ashley, winners of the first two races, respectively. Two-time defending points champion Ricky "Rude" Proffitt sits right behind Molnár and Ashley, just two points behind the points leader.
Tickets for this weekend's race at the half-mile oval in Wisconsin are available online before the race or at the track the day of the race. General admission tickets are $20 for adults, and children under 8 get in free.
For those not able to attend in person, the race will be streamed live on the Bandit Series Facebook page.