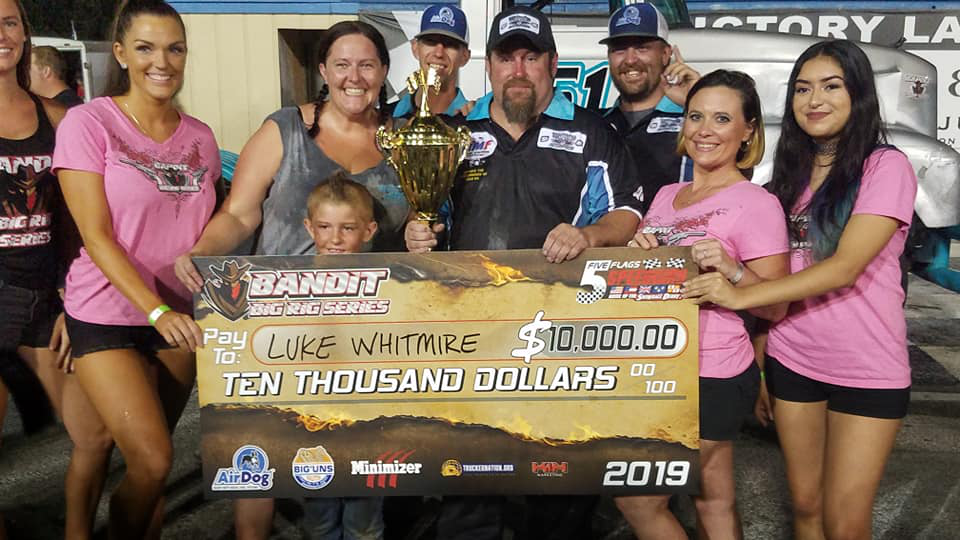 In a season that has been full of first-time winners, the Bandit Big Rig Series saw another racer claim his first career victory Saturday, Aug. 31, at Five Flags Speedway in Pensacola, Florida.
North Carolina-based racer Luke Whitmire started Saturday's race on the pole and led all but three laps to claim his first win.
"It feels good," Whitmire said after the race. "I didn't think I was going to get there. It was a long race. I was hoping we didn't have any more cautions. It was rough in the beginning."
The race started with Bob Mitchell overtaking Whitmire for the lead before a caution flag flew on lap four that was caused by a collision between Doug Hilson and Marshall Davis.
Mitchell restarted the race in the lead but got loose, which caused a chain reaction crash behind him, bringing out another caution.
On the next restart, Whitmire jumped ahead of Mitchell to lead the lap and never looked back. Mike Morgan battled Mitchell for several laps before taking second place, where he eventually finished.
Points leader Ricky "Rude" Proffitt started the race in 14th out of 16 racers and worked his way up to a sixth-place finish by the end of the race. Mark Noble, who is currently in second in the points standings, started in 16th and earned a fourth-place finish.
With the better finish, Noble was able to gain a few points on Proffitt to close the gap in the overall standings with just two races remaining.
The Bandit Series will be back in action on Sept. 21 at Hawkeye Downs Speedway in Cedar Rapids, Iowa, before finishing the 2019 season at Bristol Motor Speedway in Bristol, Tennessee, on Oct. 12.